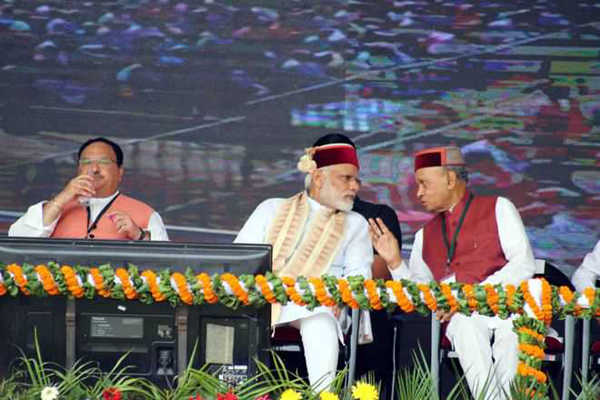 THE BJP has sensibly given a break to its absolute reliance on Brand Modi and announced 73-year-old PK Dhumal as its chief-ministerial candidate for Himachal Pradesh. It is an odd choice because of the BJP's undeclared age bar of 75 for holding executive office. The unwritten understanding is that he will hand over the reins to JP Nadda, the presumed heir-apparent and Shah-Modi favourite, once he turns 75 in April 2019. If he carries the day for the BJP, Dhumal may then be disinclined to demit office in case Modi's political fortunes nosedive by the time 2019 rolls around. It will also be a gross betrayal of the voters' mandate. After all, the BJP has justified Dhumal's announcement on the basis that it would give the party a clearer majority and that most of the cadre had sought his leadership.
The mid-course announcement may well be betraying the BJP's nervousness brought about by its shaky position in Gujarat and a below-par showing in areas of Gurdaspur, bordering Himachal Pradesh. After all, the BJP had fought the elections to an insular state like UP without a CM's face. Whatever be the BJP's calculations and compulsions, the Dhumal gambit has robbed it of its two electoral battering rams — dynasty and corruption. It is hobbled from attacking the incumbent CM Virbhadra Singh on dynastic politics because Dhumal's son is a BJP MP. It cannot go all out on corruption because while Virbhadra is an accused, the courts have convicted the recently-inducted Sukh Ram, who is promoting his grandson to boot.
As Hindu-Muslim polarisation earns no additional votes in the hill state, the Himachal election for the BJP boils down to vikas with a dash of nationalism. Add to that the fact that Virbhadra has not done too badly on the development front. The old man is undiminished in his appetite for campaigning and rhetoric. The odds may still favour the BJP but the Dhumal move will not be without its potential for collateral damage. A fight is on in Himachal Pradesh.
Top Stories