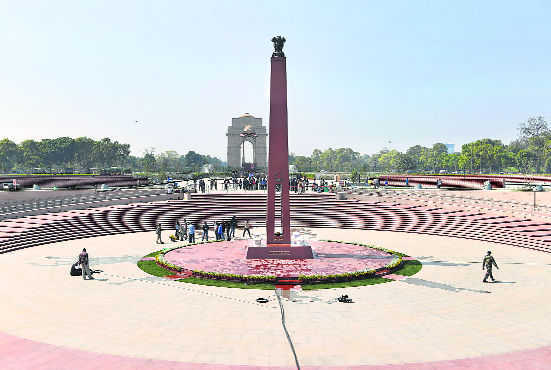 The National War Memorial (NWM) in New Delhi, which was inaugurated in February this year, is a befitting tribute to independent India's soldiers who have made the supreme sacrifice while defending the motherland during war and anti-insurgency operations. The NWM is poetry in architecture, immortalising the dead in the memory of those living and enjoying the fruits of the hard-fought freedom and the borders kept secure by the valiant soldiers. Its four concentric circles around a main obelisk — the 'Amar Chakra', the 'Veerta Chakra', the 'Tyag Chakra' and the 'Rakshak Chakra' with names of 25,942 soldiers inscribed in gold leafing on granite tablets — resonate in stone British poet Laurence Binyon's poignant ode, For the Fallen. The six bronze murals depicting the post-1947 battles in the NWM narrate the valour shown by our soldiers of the Army, Air Force and Navy in Gangasagar, Longewala, Tithwal, Rizangla and Operations Meghdoot and Trident.
The inscription of the names in the NWM of the brave officers and jawans killed in these battles gives their memory a pride of place. Long demanded, the grand edifice is built on the verdant garden adjacent to the imposing India Gate built by the British to commemorate the 84,000 Indian soldiers killed fighting for the Empire in World War I and the Afghan war and Amar Jawan Jyoti, which honours the 3,843 who laid down their lives in the 1971 war.
With a misty-eyed public looking on, a solemn ceremony is held every day at sunset to honour a war hero as the martyr's family lays a wreath in homage. The ceremonial pomp and sobriety of the symbolic gesture serve to give the aggrieved kin an outlet for their loss. At the end, it is the sense of pride in their loved one's valour that prevails; it is exemplified by Major Dahiya's wife Sujata Dahiya who described her experience as, 'Satish, I felt your presence here.' This immortality can accrue only from an act of bravery. It is important for society to honour its brave and keep the flame burning. National pride takes a country and its citizens forward.
Top Stories