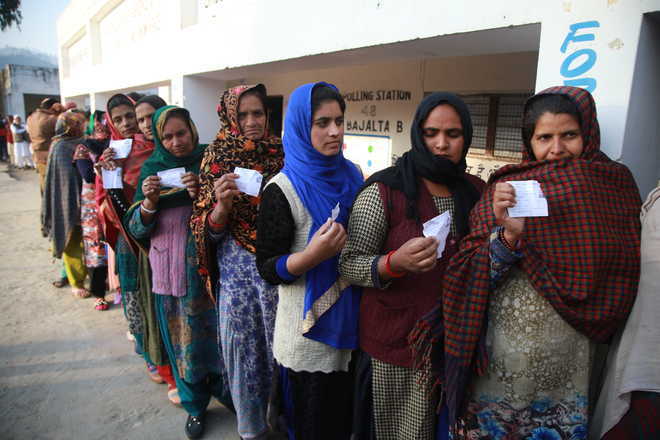 The prospects of holding the Assembly elections in Jammu and Kashmir, probably in June, have brightened after three special observers appointed by the Election Commission (EC) recommended that the polls be held immediately after Eid-ul-Fitr. Ideally, the EC should have conducted the Lok Sabha and Assembly elections simultaneously in the state, as sought by various political parties. However, the poll panel cited the deployment of security personnel for the protection of all candidates as a major constraint. The EC had appointed the observers to reassess the situation in J&K after it drew flak over its decision to hold only the parliamentary elections as of now.
The Lok Sabha constituencies of Jammu and Baramulla had witnessed largely peaceful polling on April 11, even as a schoolboy had succumbed to pellet injuries in clashes after security personnel were attacked by local residents soon after polling ended in Kupwara district. These seats recorded an overall turnout of about 57 per cent, matching the figure in the 2014 General Election. The turnout was 72 per cent and 35 per cent, respectively, in Jammu and Baramulla.
Jammu and Kashmir has been without a government since June last year after the fragile alliance between the BJP and the PDP ended on an acrimonious note. The situation has only worsened alienation and restlessness among the people, especially in the trouble-torn Valley. The Pulwama terror attack, in which a local youth played the part of a suicide bomber, showed the destructive impact of radicalisation. Once a government takes charge and stability is restored in the echelons of power, the focus would hopefully shift to development and good governance. The onus is on the EC to take security and other factors into consideration and take a call in the best interests of J&K, which has been at the receiving end of Pakistan's misadventures for too long. It would be judicious to complete the poll exercise before the Amarnath Yatra, which begins on July 1, so that the security forces are not overburdened.