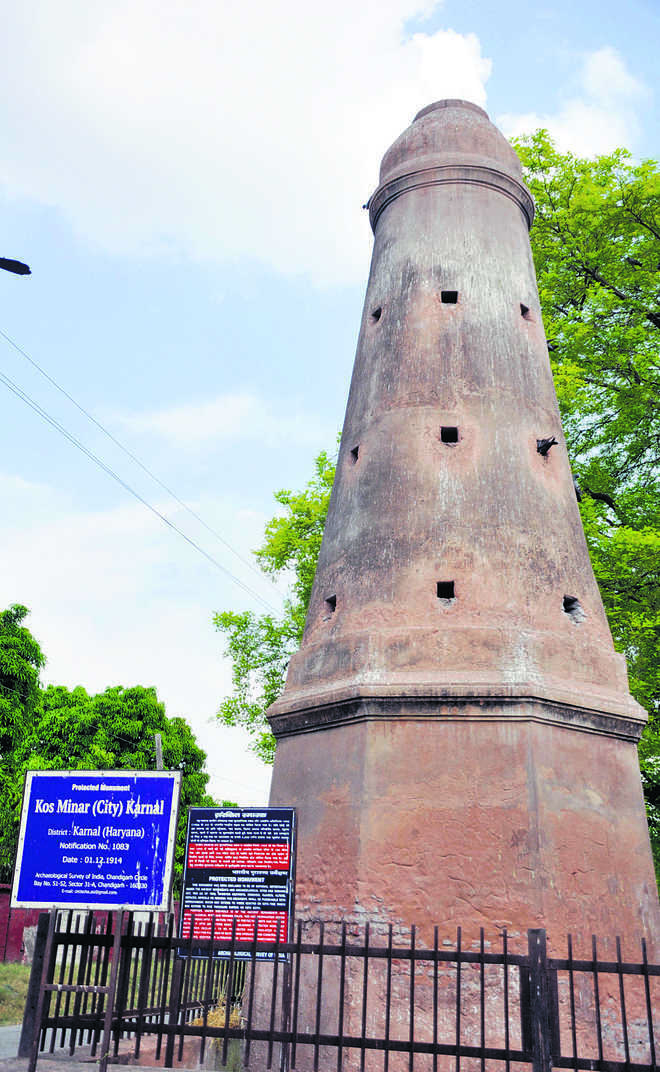 April 18, declared International Monuments and Sites Day by Unesco in recognition of the significance of the preservation of heritage, offers an opportunity to raise awareness about cultural heritage and diversity as well as the importance of protecting it, given the vulnerability of monuments to fall into disrepair. The day should also remind the authorities concerned of reviewing the efforts invested in this regard. Haryana, which boasts of a glorious history, is endowed with 89 magnificent sites that are being preserved by the Archaeological Survey of India (ASI). Information revealed by a recent RTI query on the maintenance of the state's monuments sadly once again underlines the low priority accorded to this field as well as inadequate means to undertake the specialised task of restoration and conservation of ancient buildings.
The Kos Minar in Shahabad, Kurukshetra, erected by the Mughal kings in the 16th century as part of the series of milestones as markers of distance for the benefit of travellers on the GT Road, is believed to have been lost to development and urbanisation more than a decade and a half ago. But despite the issue having been raised many a time since its disappearance, the signpost's status remains 'missing'. The Kos Minars have been given the protected status by the ASI. On the intervention of the Delhi High Court, restoration work on the Kos Minars in Badarpur, near Mathura, that were desecrated by encroachments and vandalism, began last year. Shahabad's skyline remains destined to be devoid of the historical 30-foot column unless adequate funds and expert manpower are allocated for the restoration of this site of historical importance.
In this context, the need for a more participatory involvement of the civil society in conservation projects is felt. The ASI must facilitate the promotion of human resources in the domain of preservation of heritage and monuments since the expertise available is neither up to the mark nor conversant with the wherewithal and style followed across the world. The refit of the imposing Humayun's Tomb in New Delhi in 2013 to its original form provides hope for the other sites lying in neglect.
Top Stories