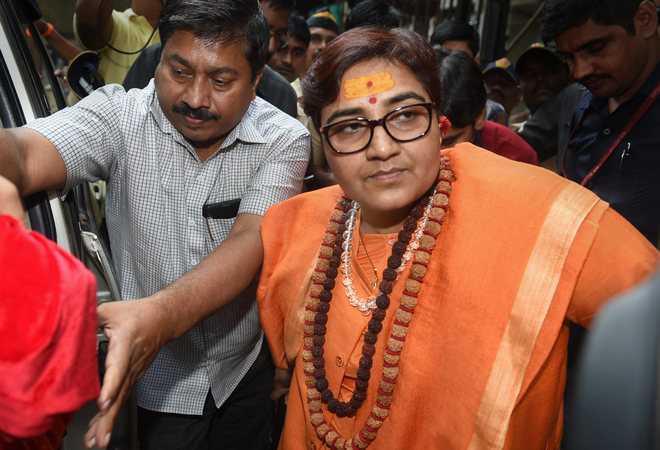 Come elections, and the air is charged with derogatory remarks flying across, from one rival candidate to another, from one rival party to the other. The voter generally takes it as par for the course, even as he winces in disgust at the prospective lawmakers'uncanny ability to push the level of discourse to appalling lows with their coarse language and propensity to hit below the belt. Civility is marked by its absence.
Sadhvi Pragya Thakur, BJP candidate from Bhopal, crossed the line when she targeted a national hero, embarrassing her party. She brazenly stated that it was her curse that led to the killing of decorated IPS officer Hemant Karkare during the 26/11 terror attack in Mumbai. This demeaning remark against a valiant police officer, who had made the supreme sacrifice by plunging into the thick of the scene of the terror attack head on with a bullet-proof jacket that unfortunately failed to protect him, has left the nation aghast. Pragya nurses a grudge against the martyr for it was Karkare who had, as the then Anti-Terrorist Squad chief, arrested her for her alleged role in the Malegaon bomb blasts of 2008. The audacious remark boomeranged on the Sadhvi, with even the BJP distancing itself from her callous words. Cowered, she proffered an apology. The martyr's valour and dignity was restored intact, even in death.
However, the pain caused by the Sadhvi's remarks to a nation will not heal so easily. Piercing words once spoken, like bullets, cannot be taken back. The BJP, whose leitmotif in the 2019 elections is nationalism, could do well to rein in the Sadhvi, who being a terror accused, already suffers from a trust deficit. It would not only send a larger message but also assuage the hurt feelings of the electorate. Rapped by the Supreme Court over the candidates stooping low in their public speeches earlier, the Election Commission had castigated Yogi Adityanath, Mayawati and Azam Khan for their provocative or hate speeches during campaigning and debarred them from holding public meetings and rallies for certain durations. Civility is the hallmark of statesmanship. Our Parliament is in dire need of some statesmen-leaders.