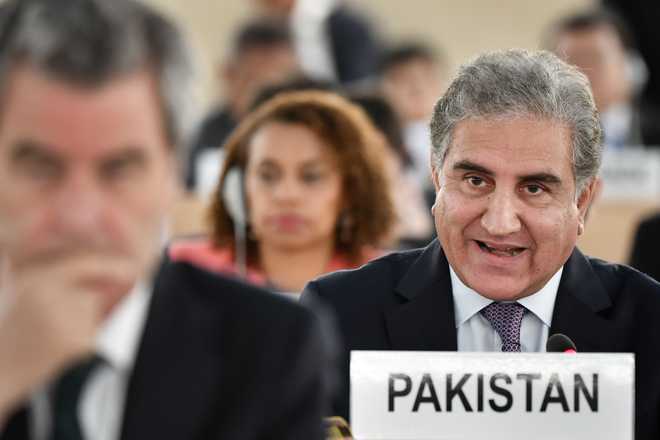 Pakistan foreign minister Shah Mehmood Qureshi has sought 'international investigation into human rights violations by India in Jammu and Kashmir' on Tuesday at the 42nd session of the United Nations Human Rights Council. Ever since India scrapped a temporary provision in its Constitution, Pakistan has been desperately trying to use all international forums to attack India and to claim to speak for the people of J&K. Yet, all this while, there has been no let-up in Pakistan's terror tricks that have forced the government to suspend Internet and mobile connections in the Kashmir valley. In the past two weeks, the BSF has caught three consignments of heroin being pushed by agents of the Pakistan deep state into Punjab. The last lot weighed 5 kg and was hidden inside inflatable rubber tubes and was pushed down the flooded Sutlej with water hyacinth tied on to them to camouflage the contraband.
Heroin and other narcotic substances are the only currency that the bankrupt neighbour's agent provocateurs can use to fund their attempts to foment trouble in India. And they have been effectively smuggling its prime product through various means — flinging it across the border fence, pushing it through plastic tubes, digging underground tunnels and probably even using drones. Can there be a greater violation of human rights than slowly killing a large section of the Indian population using deadly habit-forming drugs? These narcotic substances smuggled from Pakistan are now being peddled in Punjab, Haryana, Himachal Pradesh and the big metropolises. A government that winks at these drug peddlers should not talk about human rights. Along with drugs, the BSF has also seized arms and ammunition, proving beyond doubt the neighbour's narco-terror designs.
While the Indian representatives wrestle with Qureshi, they also should heed to sage counsel from UN Human Rights Commissioner Michelle Bachelot and also the US state department, which earlier urged India to restart the political process in J&K. Local political leaders have been carrying the Indian flag all along and working within the Constitution, their incarceration is inexplicable and inexcusable.