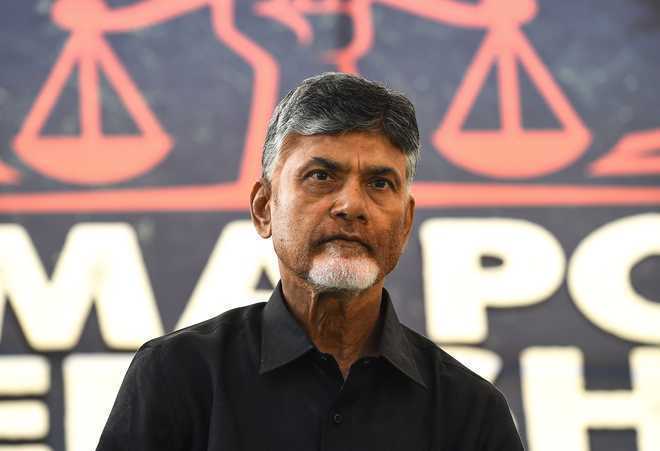 Politics of negativity and repression has dominated the first 100 days of the YSR Congress Party (YSRCP) government in Andhra Pradesh. Led by first-time Chief Minister Jagan Mohan Reddy, the party that stormed to power in May-end is pulling no punches against Leader of the Opposition and three-time former CM N Chandrababu Naidu. On Wednesday, the Telugu Desam Party (TDP) chief was placed under house arrest, scuttling his plan to spearhead an agitation. Though the state police claimed that Naidu's preventive custody had nothing to do with his fight against the government's policies, it's easy to put two and two together.
Denying Naidu his democratic right of staging a peaceful protest is the latest outrage committed during Jagan Mohan's rule. The TDP has alleged that eight party workers have been killed and over 500 attacked by YSRCP leaders and workers in the past three months or so. The no-holds-barred tussle has spilled over into the development arena. Last week, the government cancelled the Rs 3,216-crore Polavaram hydel power project's contract; in August, the contract for works pertaining to a Rs 3,000-crore irrigation project was terminated. Justifying the drastic decisions, Jagan Mohan has cited irregularities in the awarding of both contracts by the then TDP government, even as a judicial commission is set to be formed to review all projects worth Rs 100 crore or more.
The fate of the TDP's dream project to build the state capital at Amaravati is also hanging in the balance. World Bank and Asian Infrastructure Investment Bank have already pulled out of the $300-million venture. The massive mandate received by the YSRCP — which won 151 Assembly seats out of 175 and 22 Lok Sabha seats out of 25 this year — has given the young CM the confidence to undo the TDP's questionable deals and projects. Jagan Mohan, son of former CM YS Rajasekhara Reddy, might have outwalked Naidu with an over 3,000-km padyatra, but he still has a long way to go as far as democratic conduct is concerned. And he needs to eschew knee-jerk reactions that might unintentionally help Naidu regain lost ground.
Top Stories