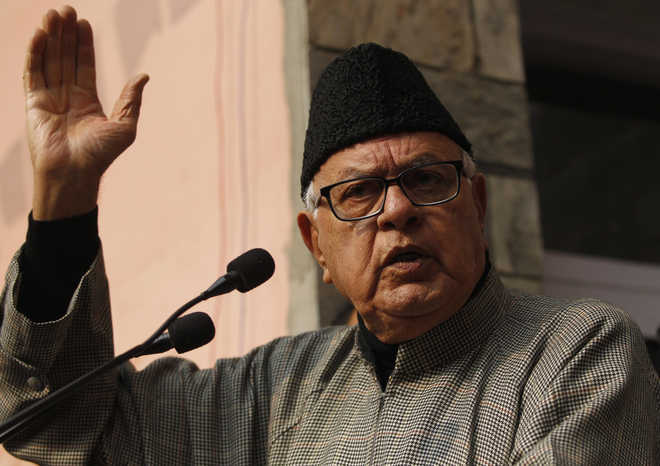 When Parliament debated the government's decision to scrap Article 370 of the Constitution, the speaker who should have had the greatest say — the Member of Parliament from Srinagar — was far away, locked up in his house in the Valley. This irony is getting worse by the day. Last Sunday, in the dead of night, Farooq Abdullah was arrested and his home turned into a jail under the draconian Public Safety Act, which entails detention up to two years, for 'posing a threat to state security and territorial integrity'. Farooq is not just the son of his father; he is a three-time Chief Minister of Jammu and Kashmir, a former Union Cabinet minister and a politician who fought Pakistani propaganda in Geneva under team leader AB Vajpayee in 1994. No amount of muscular majoritarian triumphalism can diminish the larger-than-life role Farooq played in strengthening the political mainstream and reviving the democratic process in 1996, when the state was torn apart by terrorism. Even his electoral loss in 2002 was a victory for Indian democracy.
Now, those who celebrate Farooq's arrest the most are Pakistani propagandists. The 'we-said-it-so' jibe from anti-India platforms goes deep like a sabre thrust into the soul of the sacred covenant that emotionally bound the Valley with the rest of the country. Can the government be so ungrateful to a politician who always stood by the Indian State, whoever be the Prime Minister and whatever be the colour of his party flag? If so, the 'we-said-it-so' propaganda would assume the gravity of truth.
Everybody knows that this 82-year-old man is no threat to Indian territorial integrity or state security. The most benign explanation for his arrest — that the government did not want to let him out as a consequence of the habeas corpus petition filed by Rajya Sabha MP Vaiko in the Supreme Court — flies in the face of logic. Every day Farooq, Omar, Mehbooba Mufti and other local leaders remain locked up, the Indian State loses its legitimacy in the Valley. They are no threat to public safety, but those who detain them are debilitating India's democracy and its image in the world.
Top Stories