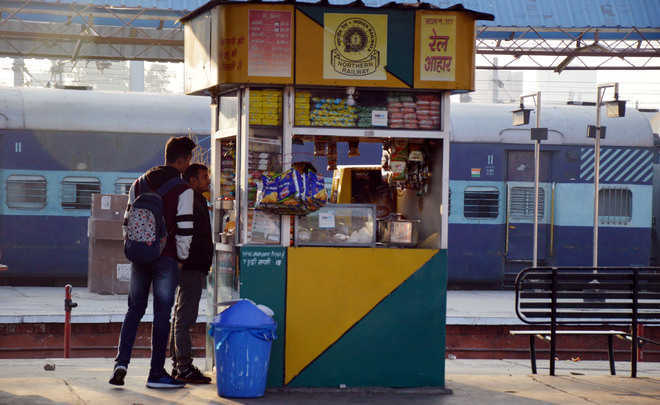 Passenger service has been an evolving proposition for the Railways, a major public transport that hauls men and material over long distances. Ensuring quality with comfort comes at a price, and the Railway Board has now decided to increase meal charges on trains like Rajdhani, Shatabdi and Duronto. The decision is fine, but it should also mean more variety and hygiene. The food quality on trains has been calling for a review, as the same staple fare is served again and again. The service is prompt, but tips should be voluntary and insistence by the catering staff can be annoying for the passengers. Whether the hike will mean an increase in fare remains unspecified. Food on board was meant to spare the passengers the trouble of carrying their own stuff or buying it from outside. But over time, it has also restricted choice. A la carte snacks are available on payment separately, but the meal schedule leaves not much scope for them.
It is the IRCTC (Indian Railway Catering and Tourism Corporation) that runs the catering service. A subsidiary of the Railways, while it has seen modernisation and expansion of services, the sheer volume of people it caters to makes its task tough. It can borrow a leaf from the airlines by leasing out catering to private operators or remodel it itself, so that passengers can buy what they want. It will also check the use of plastic, with water being served in paper cups, instead of bottles being handed out. Like the airlines, it may be feasible on short routes, if not on the long ones. It can be tried on Shatabdis, where many passengers skip meals despite having paid for it. Making it optional will spare them the cost and offer choice as well.
Despite the noise about private operators being asked to run trains, that even the showpiece Tejas Express is operated by the IRCTC, indicates a reluctance to let go because of the enormity of the task. The Railways has immense social importance in India, catering to all denominations, but on premium trains, passengers want value for money. Also, while hiking the meal prices on trains, the government should think about the heavily subsidised food served in the Parliament canteen and other places at the cost of the taxpayer. A hike there, too, will set an example in right earnest.