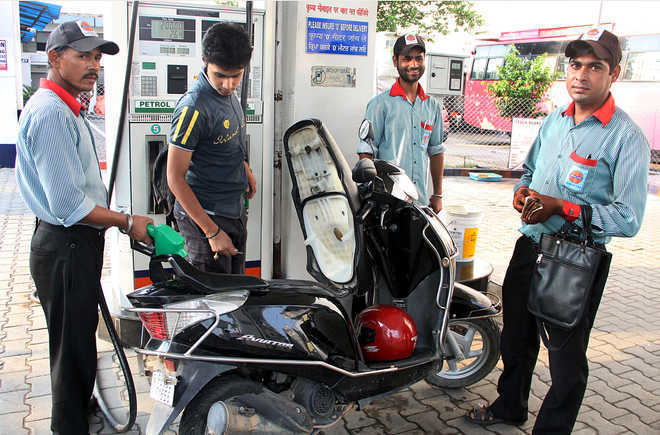 It is a sign of healthy cooperative federalism that a group of northern states has agreed to resolve its disagreements over different tax rates on petrol and diesel. The meeting of senior officials in Chandigarh demonstrates the political maturity of five states —Haryana, Punjab, Delhi, Himachal Pradesh and Uttar Pradesh — which are ruled by three ideologically divergent parties. Apparently, the states have, in principle, agreed to have a uniform value-added tax (VAT) on petrol and diesel in the region and sub-committees have been entrusted with the task of working out the specifics. The move comes at a time when petrol and diesel prices are breaking records on a daily basis.
The price burden on the people is, however, not the prime motive behind the proposal. This is a prudent attempt of the states to plug their revenue losses and protect the petrol pump owners from losing business in a high tax zone. Tax differentials motivate automobile owners of one state to patronise pumps located in the states where fuel is cheaper due to lower VAT rates. This has been affecting the pump owners in the states where tax rates are comparatively high. Taxes on petrol and diesel are the main revenue sources of states. Because VAT is an ad-valorem levy, states have been silently reaping the windfall gains of high fuel rates at the cost of customers.
It appears that Chandigarh will play a crucial role in the implementation of a uniform tax rate across the northern states because of its geographical positioning and tax rates. Appreciatively, the states have been able to rope in the UT, which has the lowest tax rates — 19.76 per cent for petrol and 11.42 per cent for diesel. Will Punjab agree to slash VAT on petrol from the existing 35.12 per cent or Delhi on diesel from 17.24 per cent to arrive at a common point? Or will Chandigarh have to hike tax rates substantially? The initiative of the states, though, is a good beginning before petrol and diesel are brought under the GST.
Top News
Banking sector resilient, says Reserve Bank | Markets well-g...
250 evacuated | 19 houses, mosque, madrasa declared unsafe
Apex court gives govt 10 days for notification