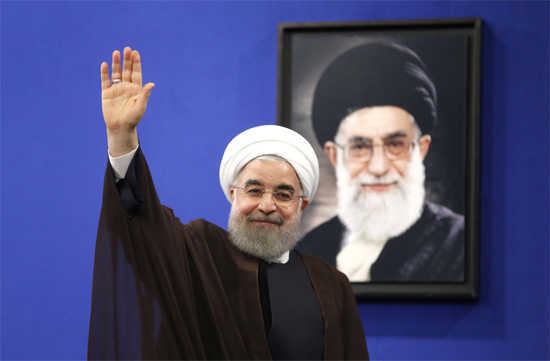 An Iranian President's overseas visit is always global news. Hassan Rouhani's visit to India too should make a worldwide splash, for Iran is trying to break-free from a determined US-Saudi squeeze to end its intervention in the region's hotspots on the side of their adversaries in Syria, Iraq and Yemen. Iran's US-Saudi promoted difficulties, however, are neither recent nor do they make Tehran an easy candidate for extracting concessions. But Iran is well-practised in the art of playing hardball even though its low GDP growth rate and fall in fixed gross capital formation recently triggered street protests in several cities. Iran has offered India two tantalising but juicy carrots: a stake in a lucrative gas-field and access to landlocked Afghanistan without going through Pakistan.
Iran's permission to India to operate its Chabahar port is a teaser. Iran also wants India to set up an industrial complex next to the port and build a railway line to its Afghan border. The politics is good: both Iran and India are wary of Sunni militancy incubated in Pakistan. The plan for massive investments could be a good fix. But the lack of any interest by PM Modi's business entourage in the Chabahar projects strengthens doubts about their economic viability. Rather, Indian PSUs are backing all the capital-intensive projects penciled for Chabahar. India as a nation will need to reflect whether South Block's antipathy to Pakistan is blinding it to the reality that it is actually Iran which gains from these projects built in a militancy-wracked and drug-afflicted region.
India's attempt to bag a potentially lucrative gas-field is also up against some determined Iranian bargaining. The negotiations have already witnessed bad blood after New Delhi scaled down purchases of Iran crude in retaliation against stonewalling by Iran. The shadow of the US also looms large over any Indian attempt to enhance its energy security and geopolitical ties with Iran. The challenge before PM Modi is not only to escape US disapproval, but also ensure that he is not persuaded by his anti-Pakistan antipathy to put the taxpayer's money in unviable projects.
Top News
Says poor largest segment in country, deserve first right on...
The Canadian allegations regarding India's involvement in th...
30 locations linked to news portal, journalists searched; di...