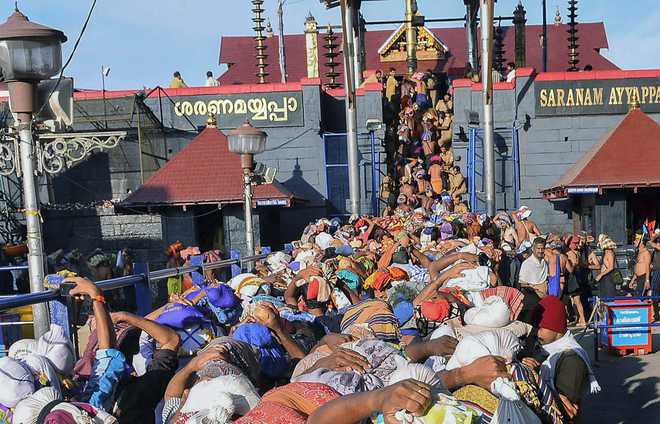 Over a year after its landmark judgment allowing women of all ages to enter the Sabarimala temple in Kerala, the Supreme Court has kept in abeyance its final decision on the review and writ petitions until a seven-Judge Bench settles the court's role in determining whether a particular practice is essential or integral to a religion. In a 3:2 verdict, a five-Judge Bench has clubbed the matter with cases pertaining to other faiths: the denial of entry of Muslim women to mosques and of Parsi women (married to non-Parsis) to the Tower of Silence, besides the custom of female genital mutilation in the Dawoodi Bohra community. The move, based on the contention that all these issues may be 'overlapping', is set to open a Pandora's box. Applying the overarching yardstick of gender equality to diverse religions — each with its own deep-set beliefs and customs — is fraught with complications and could open the floodgates for petitions questioning the validity of one religious practice or the other. At stake is the constitutional freedom to practise one's religion according to one's faith and beliefs — subject to public order, morality and health.
The lone dissenting Judge in the September 28, 2018, judgment on Sabarimala, Justice Indu Malhotra, had refused to interfere with the centuries-old tradition of banning menstruating women from entering the shrine. She had observed that a judicial review of religious practices should not be undertaken as 'the court cannot impose its morality or rationality with respect to the form of worship of a deity'. This time, the minority verdict by Justice RF Nariman and Justice DY Chandrachud has emphasised that the Constitution is the 'holy book' that places a non-negotiable obligation on all authorities to enforce judgments of the Supreme Court. The duo was referring to attempts by vested interests to defy — or incite others to defy — last year's SC order.
It's a Herculean task for a religious community to initiate reforms that are acceptable to all its groups. Building consensus on such reforms across different faiths is an even bigger challenge. A one-size-fits-all approach, even if it's well-intentioned, may not be the most sagacious course.
Top Stories