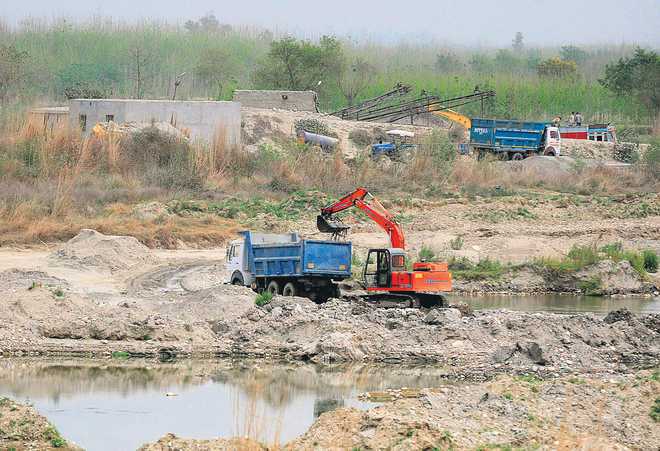 THE Punjab Cabinet's enhancement of stamp duties and announcement of a new sand mining policy is apparently aimed at generating more funds for the cash-strapped state and tame the sand mafia. The fees has been nearly doubled for 17 legal documents, including power of attorney, partnership deeds, indemnity bonds and affidavits. Theoretically, the fee enhancement should net an additional Rs 50 crore in a full financial year. As the first six months have almost passed, the exchequer may expect a paltry sum of Rs 25 crore in this fiscal. The decision, therefore, appears to be a desperate attempt to meet the revenue and expenditure gap. Although the justification that the fees were unchanged for eight years sounds convincing, the exclusion of property transactions, the most promising source of revenue, is intriguing. It appears that the government does not want to offend powerful lobbies with political clout.
While the motive of the government to make the sand mining business transparent is commendable, the new policy has some serious loopholes that need to be plugged. Auction of mining blocks through 'progressive bidding' is a good idea to secure maximum revenue for the government. It may, however, create problems at two levels — the consumer may suffer from a spike in the prices of building materials, and a winner may not be able to operationalise the mine because of overenthusiastic bidding rates. Hopefully, the government will take a lesson from the saga of previous 'progressive auctions' of mines that had raised their value disproportionately due to exuberant, competitive bidding and the winning contractors failed to operationalise these mines. This had led to a supply crunch, and consequently, a surge in the prices of sand and gravel. There is still no guarantee that big businessmen or consortia would not default.
The policy is ostensibly burdened with overregulation that leaves tremendous scope for unscrupulous bureaucrats to extort money from the miners and perpetuate the existent mafia culture. Hopefully, the government would be more insightful in the due course and amend the policy suitably to make it simpler and environment friendly.
Top News
Pakistan national to visit ancestral village in Bathinda after 75 years
Reunited with brother 4 months ago at Kartarpur Sahib