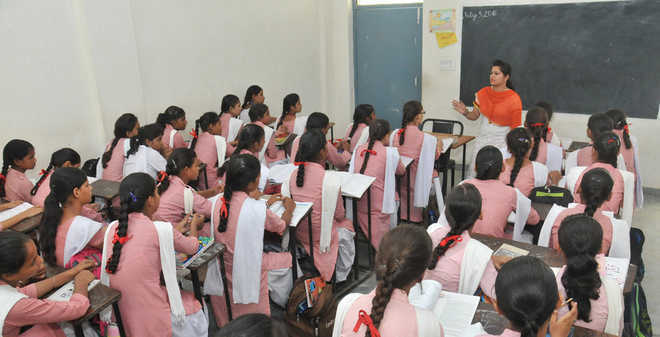 IN the absence of adequate government funds and facilities, giving a fillip to education in Punjab government schools are members of the civil society. They are pitching in to ensure that the little ones get the best learning tools, as also proper meals for their all-round development. Heartwarming gestures of Good Samaritans rising to the occasion dot the state. It is believed that in 2018 alone, as many as 2,524 government schools in Punjab metamorphosed into exemplary complexes from dilapidated infrastructures. Driving the change was the coordinated efforts of the school staff along with NRIs, corporates and the public. The primary school in Moosa village of Mansa district has the proud distinction of weaning students from private schools ever since it revamped into a 'smart' one, thanks to donations by the village community supplementing government aid. As teachers volunteered to take extra classes after school hours and hone the children's talents, no parent felt the need to enroll them anywhere else. The school of Jeetsar, another village of Mansa, has made similar progress by making optimal use of its resources gathered from concerned citizens.
Equally edifying is the latest gesture of Ludhiana schoolteachers who have not let students go without the midday meals despite coffers running empty. They have pooled money to buy vegetables and taken other food items on credit. To ensure that children continue to be provided with nutrition in line with the Food Security Act, the Punjab Government must expedite the release of funds. In a related matter, it also needs to sympathetically look into the issue of raising the salaries of cooks, who have been protesting against the meagre amounts they receive.
To stem the fast exhaustion of funds, the government would do well to also adopt imaginative methods to cut expenditure. Setting up kitchen gardens for clusters of neighbouring schools can save money on costly vegetables as well as ensure wholesome, hygienic meals for kids. For, notwithstanding public participation, the primary responsibility of children's education and food, so that they become productive citizens, remains that of the government.