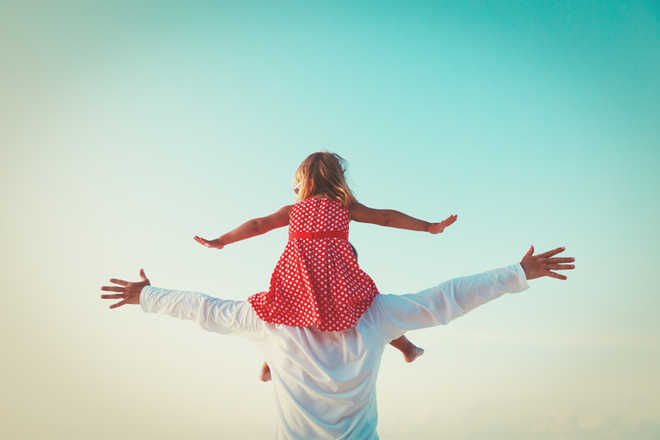 harinder@tribunemail.com
Geetanjali Gayatri
I was driving past a newly opened eatery. My first impulse was to dial dad and ask him to meet me there for lunch. Another time, I was clicking the beautiful landscapes of Leh during my first-ever solo trip, and I thought papa won't stop raving about the pictures when he sees these.
I have thought of this and lots more in the past 10 months without being able to do it. I become forgetful in these moments because it is very natural to do all this with him — a doting, indulgent father who has been involved in every bit of my life. Now, I am 43 and we know that old habits die hard.
So, he just keeps coming back. In little things. Every other day. Sometimes, something as simple as not having spoken to him for long prompts me to pick up my phone to call him up, and at other times, his car, standing outside my house, tells me he has come visiting and the doorbell will ring any instant. It never does because he doesn't come anymore. Only these flashes do.
While we might have fought and made up or loved and unloved many a time in my years of feeling intense emotions with him, these days his thoughts only bring tears — something he had forbidden me to do. I cry my heart out till the lump in my throat becomes unbearably painful, till the tears blur my papa's picture so much that it is only a blob of colours. Life hits back with reality. A split second of the happy thoughts is instantly replaced with the heartbreaking pain of having lost him. One morning, true to his quiet ways, my father passed away. I walked into the bedroom to a father who refused to respond even as I kept calling out.
On his first birthday after him, my heart still calls out to him. He doesn't seem to hear. He only flits in and out of my dreams on some nights. That is all the time I get with him.
For now, it seems theoretical to hear people tell me to remember the happy times. It doesn't work. Memories of our times together only add to the pain. They take nothing away from it.
Sometimes, I feel like the void. The emptiness shows through. The more I try to fill it, the more aware I become of the abyss that stretches inside me —from his years of presence to his months of absence. I go through such days thinking a void is a vacuum which has nothing in it and life is an illusion.
The only consolation I get when emptiness creates this vortex of despondency is that I am not alone in this despair. We are in this together — feeling the same helplessness and a similar hopelessness — because losing a dear one, especially our parents, is an inevitable part of life. We can't keep them forever. We go though many plummeting lows in our journey to come to terms with the loss and grief. They are not coming back. There is finality in death.
The only panacea to this gloom that wraps itself around our souls and holds us close is to remind ourselves that the loss is unfathomable, but so is the love they left behind.
All readers are invited to post comments responsibly. Any messages with foul language or inciting hatred will be deleted. Comments with all capital letters will also be deleted. Readers are encouraged to flag the comments they feel are inappropriate. The views expressed in the Comments section are of the individuals writing the post. The Tribune does not endorse or support the views in these posts in any manner.