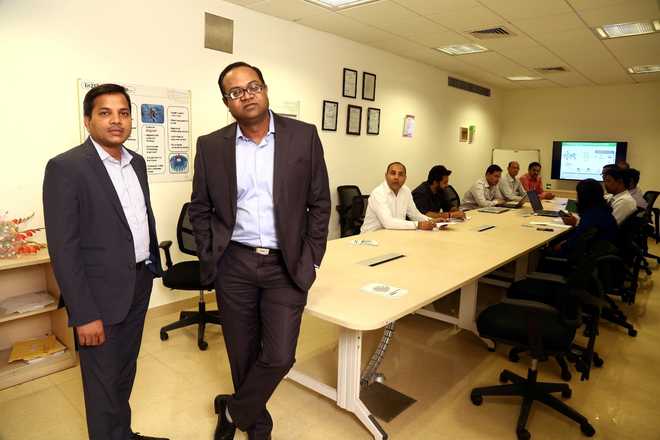 ROBINSINGH@TRIBUNE.COM
After spending considerable number of years in IT industry, including well-known MNCs, techie trio Rudra Shankar Shatapathy, Vishal Barapatre, and Saurabh Kumar decided to step into the world of entrepreneurship. According to them, entrepreneurship is all about people, passion and partnership. Rudra Shankar holds an engineering degree as well as an MBA degree from IIFT, Delhi and had worked for companies like Reliance, TCS, Wipro, HCL Technologies etc. Vishal is an alumni of Delhi College of Engineering with a degree in Electronics & Communication. Vishal had worked in renowned IT companies, including HCL Technologies. Saurabh is also an engineer and holds an MBA degree from Fore School of Management. Their academic backgrounds coupled with industry experience helped in creating their entrepreneurial venture in the field of IT. With their passion for IT and entrepreneurship, and also proper industry experience, they started 'In2IT Technologies'. Since its inception in 2011, the company has shown a robust growth and the three founders have been instrumental in providing jobs to 350 people. Headquartered in Bhubaneswar, the company has offices in South Africa, Kenya, US, Australia, Middle East and Singapore. It helps customers streamline their processes, ensure optimal usage of solution and deliver a high performance customer-centric service. It aims to keep clients on the radar of continually evolving technology. Vishal Barapatre, Group CTO and one of the founding members, tells more about the journey of In2IT technologies. Excerpts:
Genesis
Having worked for the IT industry for a considerable time period, we thought of trying our hand in entrepreneurship. We have the passion for entrepreneurship and wanted to become job creators in the field of information technology. Working for big IT companies and global exposure were huge advantages for us and helped us convert ideas into reality. We understand that technology is the enabler and that there is always scarcity of resources to embrace the right technology.
Challenges
We faced major challenges in maintaining cash-flows in the beginning. A growing company with increasing workforce also faces employee retention challenge.
Growth
The journey so far has been quite memorable. Within four years of our operation, we have expanded our footprint from one country to seven countries. We have started our operation from South Africa. We operate in 12 countries and have a team of more than 350. We are now exploring opportunities in different countries across the globe.
Future hiring plans
This year we already have couple of projects in place and few projects are in pipeline. Looking at the projects in the pipeline, we think we have to double our team size.
Motivation for others
Every entrepreneur should be cognizant of certain things. First is skill-sets, i.e., what value he is bringing to the customer. Secondly, the level of passion. It is very important to keep the pace going. Another aspect entrepreneurs should keep in mind is maintaining the cash flow.
— As told to Arupjyoti Gogoi