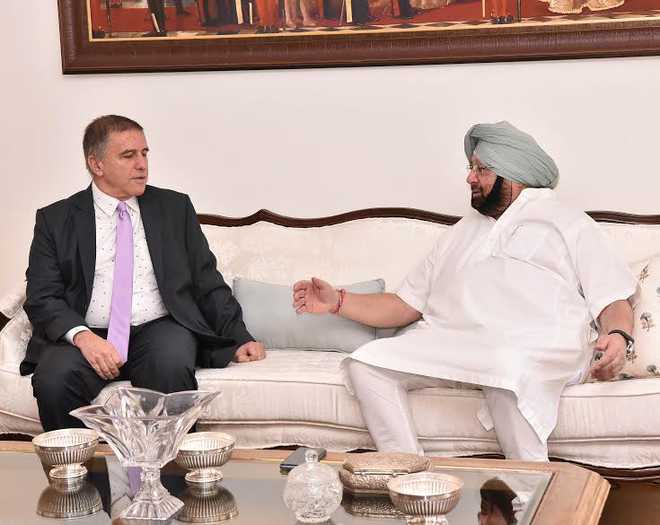 Tribune News Service
Chandigarh, June 13
Israeli envoy to India Daniel Carmon has invited Punjab Chief Minister Capt Amarinder Singh to visit his country in September to take forward their discussion on cooperation across a wide range of subjects, including defence, agriculture, horticulture and water conservation.
This was disclosed here by an official spokesperson after the Israeli Ambassador to India Daniel Carmon met the Chief Minister here on Tuesday morning.
The two sides explored enhanced cooperation in several areas that are critical for the development and progress of Punjab, said the spokesperson, adding that the Chief Minister had suggested that his delegation to Israel could include some progressive farmers.
The Israeli delegation said they looked forward to the Chief Minister's visit, which could follow the Prime Minister's visit to their country, and offered to prepare a tailor-made agenda to ensure a continued meaningful dialogue.
The delegation invited the Chief Minister to coincide his visit with WATEC Israel, an international professional exhibition to be held in Tel Aviv from September 12-14, which would offer a platform to showcase latest technologies in water and environment.
While defence is on top priority for cooperation between Israel and Punjab, the Chief Minister is also keen to use Israeli expertise to promote horticulture, dairy farming, bee-keeping, irrigation and water conservation in the state.
Top Stories