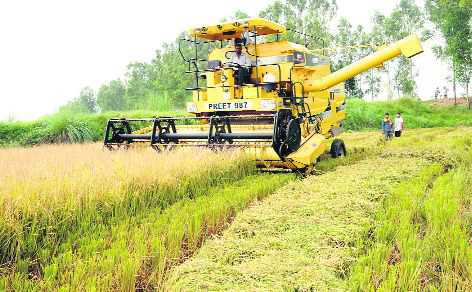 editorial@tribune.com
Aman Sood
Tribune News Service
Patiala, October 3
Opposing the government orders to impound combine harvester machines operating without the super straw management system (SMS), farmers today said the move would put an additional burden on them.
Farmer outfits say the decision would add to their cost of operation, resulting in more financial distress. They warn of an agitation if farmers are not compensated.
The Agriculture Department has ordered impounding of combines, which are found to be functioning without the super SMS. The use of super SMS with combine harvester helps manage crop residue. The super SMS attached to the rear of a combine chops and uniformly spreads loose straw on the field. With this method, the farmers are not required to burn the straw.
Kahan Singh Pannu, Director, Agriculture, says they are taking steps to ensure that such combines are confiscated, but farmers should rather cooperate. "This year, we have given a subsidy of over Rs 260 crore against 26000 applications. Those who applied for SMS are given 50 per cent subsidy," he said, adding that stubble-burning is a dangerous trend and it is high time that farm unions cooperate with the government to curb the practice.
Satnam S Behru, chief of Consortium of Indian Farmers Association, said: "We are not against ban on stubble-burning, but the farmers should be compensated at the rate of Rs 4,000-5,000 per acre."
The state had placed orders for 14,026 machines, including happy seeders and super-straw management system, last year. "There is ample machinery for farmers to desist from burning stubble. The subsidy on the machine is 50 per cent if purchased by an individual and 80 per cent if bought by cooperatives, farmer groups and custom hiring centres," says Pannu.
The Centre had, in March last year, approved a budget of Rs 695 crore to be spent in two financial years (2018-20) on straw management.
Top Stories
Cities