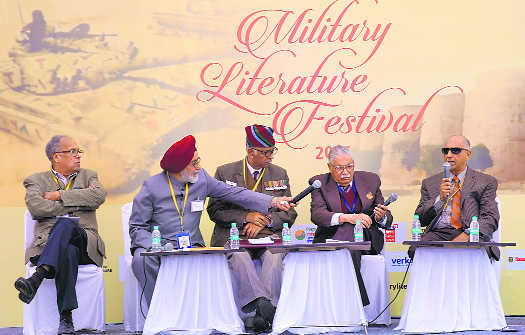 Bhartesh Singh Thakur
Tribune News Service
Chandigarh, December 9
Lt Gen Sagat Singh was brought alive today at the Military Literature Festival when his audio recording was played at a session where he talked about his role in transporting nearly 2,500 men across Meghna river to the gate of Dhaka in helicopters.
"...I was commander of para-brigade and I had full experience in the use of helicopters in offensive role… the directive was issued that helicopter could carry one company only and they also asked for my firm plans... I told them I couldn't give firm plans..." said Lt Gen Sagat, in an audio recording of 1974.
Maj Gen Rajendra Nath (retd), who fought the 1971 war on the eastern front, said Dhaka was well defended by rivers on two sides, so crossing over in helicopters was decisive. "Lt Gen Sagat was the best commander the world has ever seen. Had he not been commanding 4 Corps in the 1971 war and Group Captain CS Sandhu (retd) not been there, Bangladesh would still have been East Pakistan. He had the courage to say no to his superiors," said Major Chandrakant Singh (retd), who was part of the first sortie of helicopters that flew across the Meghna. He won the Vir Chakra for his role in the war.
Major Singh said Lt Gen Sagat crossed the Meghna without any orders as he wanted to capture Dhaka. Defying orders, Lt Gen Sagat had opened artillery fire on the Chinese to defend Nathu La in 1967. Thereafter, he was sidelined and given an administrative post.
Group Captain Sandhu said they only had five Mi-4 helicopters that carried 17 troops each, five more than their capacity. Hundreds of sorties had to be carried out despite the copters being hit by small firearms.
Group Captain Sandhu, squadron leader during the war, also got the Vir Chakra. Pakistan surrendered on December 16, 1971.
Maj Gen VK Singh (retd), who has written biography of Lt Gen Sagat, said, "He was the best combat leader who never got any gallantry award." About his plans to airlift troops, he said, "The Air Force Headquarters said they wouldn't take the risk of landing at an unknown place. Group Captain Chandan Singh told them that the biggest boots had left his footprint there. He was referring to Lt Gen Sagat. So, without permission, they landed at an unknown location."
Lt Gen GS Sihota (retd), former Army Commander of the Southern Command, who too was part of the 1971 war, said, "None of us dared to say no to him. He never showed he was worried."