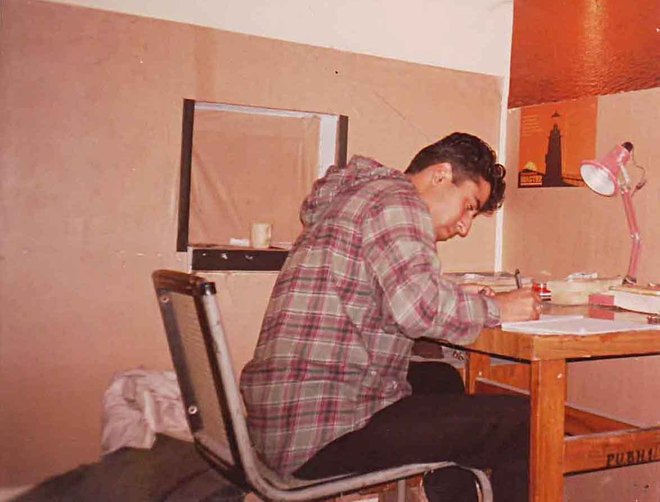 Aarti Kapur
Tribune News Service
Chandigarh, July 25
Kargil War hero Vikram Batra is remembered for his bravery and sacrifice by the country. His family, friends and teachers have different tales of his student days, which he spent in Chandigarh, to share.
"I scolded him in 1995 when he did not return the NCC uniform which is mandatory for every cadet after finishing studies to get the no dues certificate for getting his degree," former NCC in-charge of DAV College Prof RP Singh recalled the incident when he was asked about Vikram who was a BSc student of
the college.
The otherwise calm and quiet Vikram told the professor: "I had gone to my native place in Himachal Pradesh, which is why I could not return the uniform on time." The professor said he was frank and truthful. In the first year of college, Vikram was in the NCC air wing, but for the next two years, he remained a cadet of the Army wing, said Professor Singh.
Vikram, who was fond of adventure, was the president of the Youth Service Club of the college. He organised a Kasauli trekking trip for the club members, recalled his sports lecturer Ravinder Chaudhary. In 1994, Vikram participated in the Republic Day parade
in New Delhi.
Vikram, who is rememberd in the Army for the war slogan 'Yeh Dil Maange More', is missed by his father for his words "Bas do minute papa" (two minutes dad).
Sharing memories, Vikram's father GL Batra said during his first visit to Hostel No. 1 of Panjab University, where he took admission in MA English for preparing for his Combined Defence Services exam, Vikram asked me: "Papa aap kya khaoge" (Dad, what will you have). To which, he said: "No mess or canteen is open in the university. Don't bother yourself." Vikram promptly responded: "Arre bas do minute" and he came back with a bowl of noodles with an omelette topping for his father.
"This dish has become part of our family meal and whenever I miss him, I ask my wife to prepare it for me," GL Batra said.
He further said Vikram was "yaaro ka yaar" (true friend). His friendly nature endeared him to mess staff who used to borrow his bike and in return bestowed their bounties by making everything available to him on demand in the hostel. Vikram, who was honoured with the Param Vir Chakra and Maha Vir Chakra, during his university days did a part-time job as the branch manager of a travelling agency in Chandigarh. "I do not want to be a burden on you, dad," Vikram had told his father.