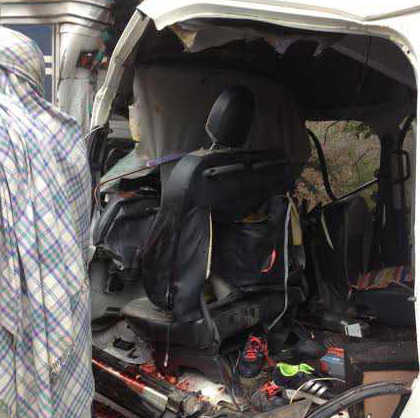 Praful Nagpal
Fazilka, December 9
Thirteen government school teachers, including five women, were killed in a road accident near Chandipur village, 9 km from here, on Friday morning.
They were going to their schools in a jeep. Eyewitnesses said there was a head-on collision between the jeep and a truck.
(Follow The Tribune on Facebook; and Twitter @thetribunechd)
Those killed have been identified as Sanjiv Bagla (Shatirwala village near Fazilka), Shankar Lal (Fazilka), Manohar Lal (Abohar), Ram Pal (Abohar), Satinderjit Singh (Fazilka) Ashish (Faizlika), Nazam (Killianwali), Sanjeev Kumar, Bindia (Abohar), Tejinder Kaur (Fazilka), Shetal Kakkar (Fazilka), Natasha (Balluana) and Kiran Bala (Fazilka).
In all, 15 people were traveling in the jeep.
Gopi Chand, who was injured critically, was shifted to a hospital at Abohar.
The bodies of the deceased have been shifted to Civil Hospital at Fazilka. Senior officials of the district administration have reached the spot.
Among the deceased were newly appointed ETT teachers.
Following a bandh call given by the local Beopar Mandal, shops were closed in the town to show solidarity with the bereaved families. Senior leaders, including Congress MLA Sunil Jakhar, Akali MP Sher Singh Ghubaya and BJP Minister Surjit Kumar Jayani, reached the local civil hospital.
Meanwhile, Deputy Chief Minister Sukhbir Singh Badal expressed grief over the incident and condoled the deaths.
He said the loss of teachers, who chiselled young minds for the future of the nation, was "irreparable" and it had not only traumatised their families, but their students as well.
The Deputy CM and SAD chief said he and his government were with the bereaved families at this critical hour. He also advised all to use utmost caution while driving in the coming days when dense fog dominated during early and later hours of the day.
Punjab Congress chief Amarinder Singh and AAP state convener Gurpreet Singh Ghuggi also condoled the deaths. They said the incident was a sad moment.
Amarinder asked the state government to change the school timings in order to ensure that "schoolteachers, students and other staff are not exposed to the risk of such accidents due to fog". With PTI
Top News
Opposition Congress demands resignation of CM Naveen Patnaik...
Pace sensation Titas Sadhu, leg-spinner Parshavi Chopra dish...
Congress leader says people of J-K are in pain and his party...
Said there is a push from a growing number of member nations...
'Winning on the field and off it': ICC posts video on social...