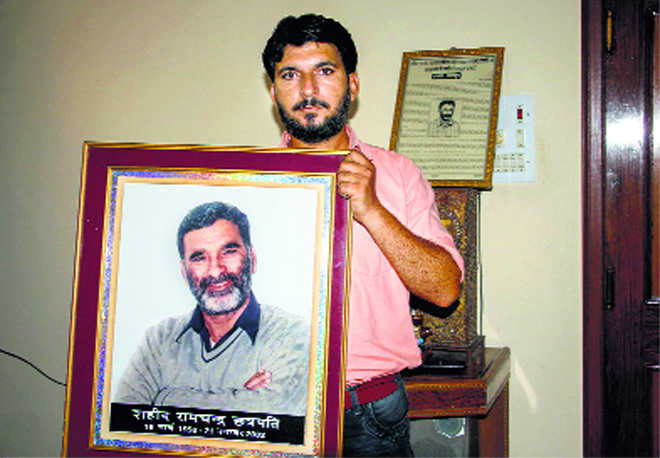 The special CBI court's verdict against Dera Sacha Sauda chief Gurmeet Ram Rahim Singh has come as a big hope for journalist Anshul Chhatrapati who has been fighting a protracted battle to get justice for the murder of his father.
Anshul's father Ram Chhatrapati, who published an eveninger Poora Sach from Sirsa, was shot at outside his residence on October 24, 2001, allegedly by two Dera followers. The apparent provocation was that he had been writing about Dera activities, including an anonymous letter relating to the rape of sadhvis written to then then PM Atal Bihari Vajpayee.
Chhatrapati died on November 21 that year. The Dera chief is facing murder charges in this case as well as in the murder of Ranjit Singh, brother of one of the sadhvis who deposed before the CBI court in the rape case.
"You can imagine how difficult it could be for a common man like me to fight for justice against a person who has all the might of the state at his feet. My family has lived in fear because the state which was expected to provide us safety was actually honouring Ram Rahim Singh and giving him lakhs of rupees and a tax waiver to his films at the expense of people's money," says Anshul. "I have not lost faith in the judicial system in all these 16 years. The verdict has come as reassurance that all is not lost, even if the elected government is ready to betray a family for the sake of votes." He says almost the entire BJP ministry in Haryana has been beholden to Ram Rahim. "The Congress and INLD governments were no exception." He says political parties have used cases against the Dera chief to blackmail him for votes.
Top News
Wearing of masks must in all educational institutions, gover...
Media report says initial assessment indicates 24-year-old m...
According to Rushdie's agent Andrew Wylie, nerves in his arm...
The exercise is scheduled to be held at Manesar in Haryana i...
State government issues notification, move expected to save ...