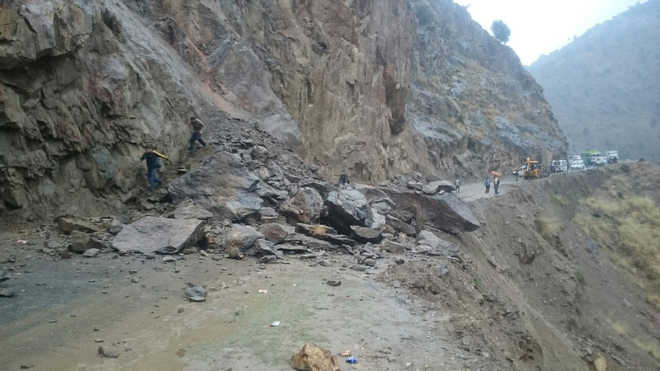 Tribune News Service
Jammu, March 17
Two persons were killed and three others sustained grievous injuries after a Jammu-bound Sumo taxi skidded off road and plunged into the turbulent Bisleri Nullah at Gangroo in the Ramsu area of Ramban district.
Three passengers of the taxi went missing after the mishap and a search was launched to trace them.
The vehicle reportedly skidded off road after being hit by shooting stones around 12 noon. The deceased have been identified as septuagenarian Haji Mir and Mohammad Sikander Mir (40). The latter succumbed to his injuries while being shifted to the Ramsu hospital.
The injured comprised driver Manzoor Ahmed Khan, Ghulam Mohammad Mir and Riaz Ahmed Mir.
Senior Superintendent of Police (SSP), Ramban, Randeep Kumar said at least three persons remained missing in the incident and efforts were on to trace them.
All the passengers reportedly belonged to Chak Syedpora, Shopian, in south Kashmir. Meanwhile, Jammu-Srinagar national highway was closed for traffic this afternoon following massive landslides, triggered by incessant rain, at different locations. The Batote-Kishtwar highway was also closed for traffic after landslide in the Raggi Nullah area.
"Due to continuous rain along the Jammu-Srinagar and Batote-Kishtwar highways, all kind of traffic has been suspended. Massive landslides have been reported from Ramban and Banihal areas, particularly at Sher Bibi, Panthyal, Battery Chashma, Marog and Anokhi fall," a senior Traffic Police officer said. More than 1,000 passenger vehicles have been stranded at different locations on the Jammu-Srinagar national highway in Ramban district, the officer said. "Efforts are being made to keep the passenger vehicles at safer places. The traffic on Ramban-Banihal stretch has been stopped. Similarly, there would no movement of vehicles on Doda-Batote highway," said the officer.
Doda and Kishtwar districts remained cut off from rest of the state after a massive landslide at the Raggi Nullah blocked the only road link to the twin districts.
Hundreds of vehicles, including those carrying essential supplies, were standard on both sides of the highway near the Raggi Nullah since early morning.
Superintendent of Police (SP), Jammu-Srinagar highway, Sanjay Kotwal said: "For the safety of the passengers we are not allowing any fresh vehicle from Jammu. Similarly, no vehicle will be allowed from either sides of Doda-Batote highway."
He said efforts were being made to clear the stranded passenger vehicles. In Doda, Territorial Army postponed its recruitment drive following heavy rain.
Incessant rain since last evening and snow in upper reaches of Poonch has thrown normal life out of gear as many link roads in the hilly areas have been closed due to landslides. The temporary road constructed on the Pulast river on the Jammu-Poonch highway was washed away this morning, causing inconvenience to commuters. The traffic on the highway was diverted via Kalai Bridge in Poonch. Heavy snow was witnessed in Saujian, Khet, Chandimarh, Loran and upper reaches in Surankote. In Rajouri district, five houses suffered damages due to continuous downpour.
Top News
AAP wins 134 of 250 wards, BJP 104, Congress 9, Independents...
BJP thanks people for 'recognising' its work, making it vict...
Terming the Indian economy a bright spot in the otherwise gl...
Upbeat BJP aiming for a straight seventh win in state Assemb...
The sound is heard on Tuesday night near a bridge over the T...