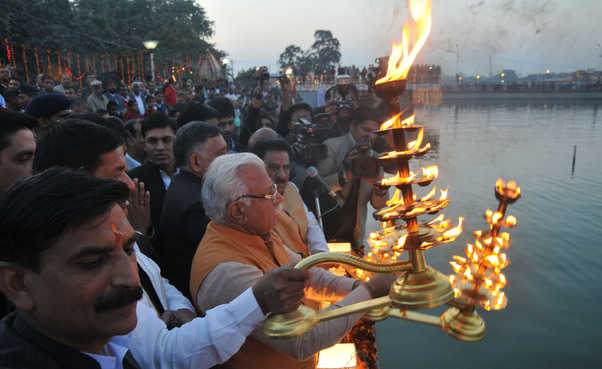 Nitish Sharma
Tribune News Service
Kurukshetra, December 21
The Gita Jayanti Samaroh will be celebrated as Haryana's special festival on the pattern of Punjab's Baisakhi and Assam's Bihu and there will be an international-level festival in Kurukshetra from next year.
This was stated by Chief Minister Manohar Lal Khattar while addressing a gathering at Purushottam Bagh during the concluding ceremony of Kurukshetra Mahotsav Gita Jayanti Samaroh.
The CM said, "Kurukshetra holds an important place in this world due to its religious importance. This year the Gita Jayanti was celebrated across Haryana and the state government will take necessary steps to celebrate this festival at the international level so that people across the world who follow the Gita can come and celebrate the festival."
Khattar inaugurated the offering prayers on the banks of the Brahma Sarovar. Nearly 11,000 children recited Gita path on this occasion while the Chief Minister performed the aarti and offered traditional 'Deep-daan' amid the blowing of conch and chanting of hymns at the sarovar as a mark of culmination of the samaroh.
From today onwards, a regular aarti will be performed on the banks of the sarovar on the pattern of Banaras.
He also visited an exhibition put up by various government departments and the craft mela.
Satkar Bhojan for tourists
Chief Minister Manohar Lal Khattar today inaugurated 'Satkar Bhojan' — an initiative by the state government to provide quality food to tourists at cheaper rates — on the banks of the Brahma Sarovar.
The government has signed a one-year contract with NGO Akshay Patra for this programme. Tourists will get breakfast for Rs 20 per head, lunch for Rs 20-25 and dinner for Rs 30 per head.
The CM said, "It has been started as a pilot project and after seeing its successful run, more such outlets will be opened in other parts of the state."
Shivani wins Gita declamation contest
Sonepat: Shivani Sharma, a student of BPS Women University, Khanpur Kalan, got the first position in state-level Gita Declamation Contest organised by the Kurukshetra Development Board during Geeta Jayanti Mahotsav here yesterday.
Vice Chancellor Dr Ahsa Kadian said as many as 20 students from different universities participated in the contest "Upnishad Ka Saar Geeta" where she got a cash award of Rs 3,100. —OC