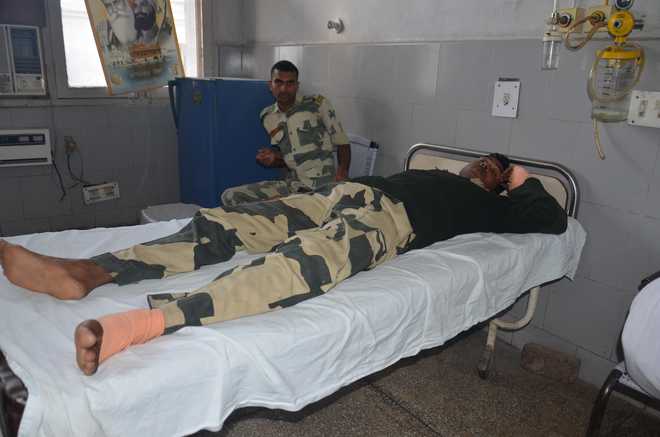 PK Jaiswar
Tribune News Service
Khasa (Amritsar), April 11
Three BSF jawans were injured after a cross border firing by Pakistan-based smugglers here late last night near Daoke border out post (BoP) at Indo-Pak border.
(Video: Three BSF jawans injured in cross-border firing at Amritsar)
The injured jawans of 163 battalion headquartered at Bhikhiwind were admitted to Guru Nanak Dev Hospital here and are stable.
According to BSF officials, the troupers sustained minor injuries caused by splinters of AK-47 rifle burst. This is perhaps for the first time that BSF jawans were injured during firing by Pakistan smugglers at Punjab frontier.
Inder Parkash Bhatia, Officiating DIG, Amritsar sector, told that the incident occurred at around 12.30 am when a vehicle was carrying the jawans to their designated places at the border fence during change of duty shifts.
The armed Pakistani smugglers, who had come near the barbed fence for sneaking contraband inside Indian territory, panicked to see the BSF jawans.
They fired at their vehicle with their AK-47 rifle which led to the injury to three jawans, including the driver of the vehicle, he said.
"The BSF team immediately retaliated the firing. However, the smugglers, around four in number, managed to escape taking the advantage of darkness," said Bhatia.
Among the three injured jawans include Mahinder Guru, who was driving the vehicle, Nagendera Kumar and Rakesh Kumar. Mahinder and Nagendra sustained injuries on their back while Rakesh sustained injury on his left thigh. There were around 10 jawans who were in the vehicle at that time.
The alert BSF jawans had gunned down three Pak smugglers in two separate instances in the recent past and seized around 36 kg of heroin and an A K 47 rifle from the spot.
Top News
Resignation sent to Governor Banwari Lal Purohit for final a...
The attack comes days ahead of the celebration of the 75th I...
Abdul Rauf Azhar, born in 1974 in Pakistan, was sanctioned b...
Four people, including two women, arrested