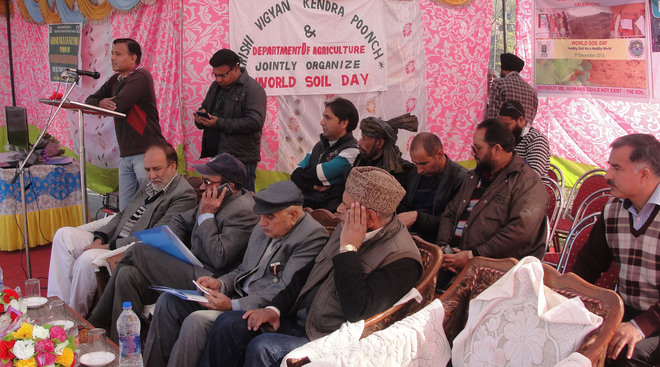 Tribune News Service
Jammu, December 6
Farmers in the border town of Poonch have been provided with "soil health cards" for cultivating crops on the scientific pattern. The nationwide campaign for checking the nutrient value of the soil has received a positive response from farmers in the border district, which shares the volatile Line of Control with Pakistan.
The Krishi Vigyan Kendra (KVK), Poonch, with the backing of Sher-e-Kashmir University of Agricultural Sciences and Technology (SKUAST-Jammu) carried out the first of its kind soil testing in the district with the use of global positioning system to create a database for future use. The Soil Health Card Scheme was launched across the country in February.
Speaking at a function on Saturday at Poonch where 500 soil health cards were distributed among farmers, Dr Sanjay Swami, Senior Scientist and Head of KVK, Poonch, said the cards were important for food and nutritional security and for the healthy life of farmers.
"For making the programme a success, more than 300 soil samples from all tehsils of Poonch district were collected and analysed for soil acidity, electrical conductivity, organic carbon, available nutrients and micronutrients. The nutrient status and recommendations of the analysis was compiled in the form of 'soil health cards' for distribution to the farmers," said Dr Swami.
Poonch MLA Shah Mohammed Tantray, who was the chief guest, also addressed the gathering of farmers. Tantray appreciated the efforts of the KVK to distribute the soil health cards, which provide a field-specific report of soil fertility status and other important soil parameters that affect crop productivity. He emphasised the importance of soil in agricultural productivity and expressed concern over the rising soil erosion in the district.