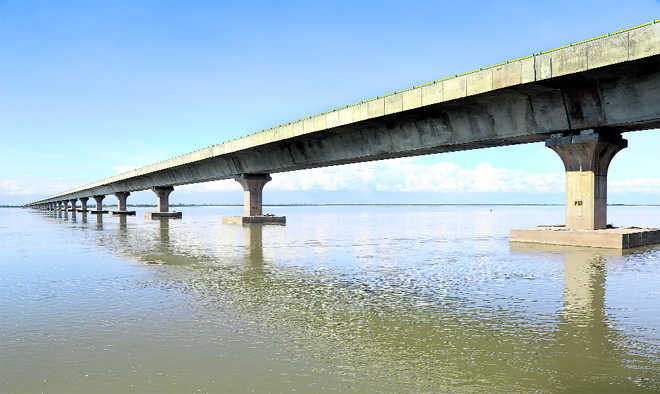 IT is about a bridge too far, across a mighty river only heard about. It's about places and people of India's north-eastern border touching China. It's about the Brahmaputra, the son of Brahma — the Creator. And it's equally about the 'tap-h' (the sacrifices) that the 'sons' of the son have made to create the longest river bridge — spanning 9.15km — of the country. The bridge has brought two states, Assam and Arunachal Pradesh, closer cementing their ties by saving hours of travel time.
Located over 550 km north-east of Assam capital Guwahati, the bridge-end lies hardly 100km from China (from Anini, Arunachal) and holds tremendous strategic value. It is capable of withstanding the weight of a 60-ton battle tank, thus becoming a key factor in improving the movement of civilian and military vehicles to strategic locations in Arunachal Pradesh.
When Prime Minister Narendra Modi inaugurates the Dhola (southern bank)-Sadiya (northern side) bridge on May 26, the happiest will be the people living in resource-rich, but remote Sadiya area of the Brahmaputra. It will bring an end to their arduous daily travail of crossing the river on motor boats to Saikhowa Ghat at Dhola and to the rest of the state.
"Boat rides are very dangerous when the river is flooded. It takes over four hours to cross it during monsoon. It is the biggest thing to happen in the area," says Asim Gogoi, a telecom inspector, in-charge of maintaining the network on both banks.
The bridge work began in June, 2011 by Navayuga Engineering Company Ltd in a PPP mode. "Initially 1,200 persons were involved in the project. The worker-strength was halved after foundation and sub-structure was completed. Now only, 350 persons are engaged in giving finishing touches," says Surya Narayan Raju, an NECL project engineer. The police provided round-the-clock security. There were hiccups in land acquisition for building approach roads. This was resolved in February, 2017 and after financial compensation was decided.
Optimism abounds
"Everybody is happy, but I am the happiest… It's a dream come true. It was me who conceived the idea," says Jagadish Bhuyan, former Asom Gana Parishad (AGP) MLA from Sadiya, now in the ruling BJP. "I was elected to the Assam Assembly for a second time on 2001 from Sadiya as an AGP member. I was looking for ways to end the misery of the people in Sadiya, who were cut off from the rest of the country. I realized that only a bridge would solve the problem, but there were few takers for my idea," recalls Bhuyan.
He and then AGP MP from Lakhimpur constituency, Dr Arun Sarma, joined hands and took the bridge idea with the Centre. They also sounded out Arunachal Pradesh chief minister Mukut Mithi. "Finally, a Central team came over to carry out a feasibility study in 2003. The team's report in 2004 paved the the way for building the bridge," says Bhuyan.
"The new bridge will become a lifeline for the people who have remained deprived of healthcare, higher and technical education opportunities, and a remunerative market for the local high-quality organic horticulture products," says Apurba Deka who owns a drug store and a lodge at Dhola town.
Insurgency & tourism
The bridge will also help in tackling internal security. "Sadiya will cease to be a shelter for insurgents because of better communication and the economic development. Insurgency thrives on under-development and in inaccessible areas," says Dipankar Sonowal, a central executive member of the All Assam Students' Union. A senior police officer said though insurgency situation in Sadiya area has improved considerably, the bridge will act as a catalyst in maintaining peace. "The inter-state movement of insurgents can now be tackled more effectively," he said.
It will also be easier for tourists to access picturesque locations in Arunachal Pradesh such as Mayodia, Anini, Roing and Tezu. "The business hub of Tinsukia in eastern Assam and smaller towns such as Doom Dooma and Rupai will benefit immensely with the increased flow of tourists to eastern Arunachal Pradesh," says Chinmoy Sharma, a Tinsukia resident.
Boatmen show the flip side
There is a loud cry for alternative livelihood by boatmen and small traders on both sides of the river. "About 120 boats ply between Saikhowa and Sadiya. There are many labourers working there. Small traders run restaurants and others shops on both sides of the ferry hubs. Once the boats are disallowed, all these people — around 4,000 — will become jobless," says Nagen Kalita who has been supervising operation at Saikhowa Ghat since 1975.
There are so many like boatman Jogen Das, who have been toiling for his owner since 1984 for a paltry monthly salary of Rs 5,000. He doesn't know how he would sustain his family of three children after the boats stop plying. Similar is the case with Pushpa Sonowal who runs a small eatery at Saikhowa Ghat.
---
"Everybody is happy, but I am the happiest… It's a dream come true. It was me who conceived the idea in 2003. —Jagadish Bhuyan, Former asom gana parishad mla from sadiya, now in ruling BJP
Quake changed it all
A mega earthquake rocked Brahmaputra valley on August 10, 1950, killing over 1,500 people and causing irreparable damage in 38,850 sq km
The riverbed became shallow and banks' erosion widened the river
Floods caused by the Brahmaputra wiped out the trading hubs
How the British set foot in hostile tribal territories
The British seized Assam and signed a pact with Ahom rulers in 1826.
British commissioner David Scott first facilitated a trade fair at Sadiya for the benefit of hostile tribes living in Arunachal hills and valley areas.
The fair became a confluence of culture and trade for tribals from the hills and indigenous communities from the plains.
English traders brought silk, wool, cotton clothes for trading. Indigenous tribes sold horses, silver, ivory, copper and forest items.
Top News
Prime Minister Narendra Modi and Uttar Pradesh Chief Ministe...
The election if required would be held on October 17, a firs...
Sujoy Lal Thaosen, Anish Dayal Singh appointed new director ...
Capable of supporting ultra-high-speed Internet, the fifth g...
As the govt rolls out the revolutionary 5G service, a look a...