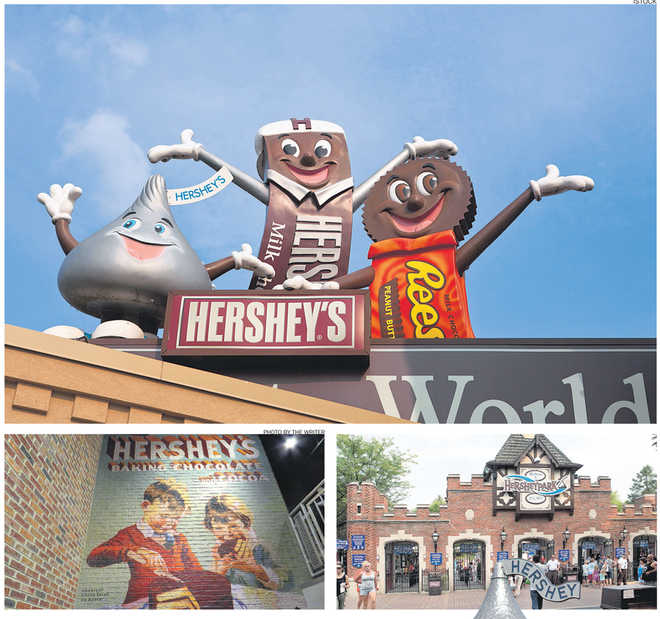 Rashmi Gopal Rao
"More than any other food, chocolate delights and enchants... chocolate tantalises and it comforts. Chocolate has soothed fretful children and welcomed tired travellers; mountain climbers have saved their last piece of chocolate to celebrate reaching new heights; suitors have given chocolate to show the depth of their devotion. Chocolate has been used as a stimulant, an aphrodisiac, and [even] a form of currency."
— Neva Beach, author
It is not an understatement to state that the love for chocolates is universal and chocolate is the panacea for almost anything! So would'nt it be pure ecstasy if you could spend an entire day amid your favourite chocolates? This is exactly the experience at Hershey's Chocolate World, Pennsylvania, which is the first of the eight visitor centres of Hershey's, one of the largest chocolate manufacturers in North America. Located in Hersheypark drive, Chocolate World is housed within an entertainment complex that also includes the Hersheypark Stadium, Hersheypark Arena, Hershey Museum and the Giant Center.
An attraction that is popular with adults and children alike, Hershey's Chocolate World has been clocking millions of visitors since it opened in June 1973. With one-of-its-kind of experiences centering around chocolate, a day at Chocolate World is truly one of fun, adventure and 'sweet'happiness.
The best way to begin exploring this exciting place would be to hop on to the Hershey's 'chocolate tour'which is an immersive slow ride atop carts that are shaped like various chocolates andcandies from the house of Hershey's. So, indulge the child in you by choosing to ride on your favourite Reeses Buttercup cart or the ever-popular Kisses carts. The ride is insightful and informative and makes you travel through the journey of Hershey's that started way back in 1886. Starting from the time Milton Hershey started the Lancaster Caramel company, the ride traces the 'Hershey story' that is one of grit and determination. The process of chocolate making is described beginning from buying the cocoa beans. With idyllic, colourful props, singing cows and fairytale-like music in the background, the ride takes you through the manufacturing process at the chocolate factory. The ride is free and does not require tickets and ends with a free Hershey chocolate sample!
There are several other experiences you can plan to enjoy during your visit. You could create your own candy bar by mixing ingredients of your choice and designing your own custom wrapper! Enjoy a thrilling 4D chocolate mystery show with some breathtaking special effects and world-class animation. You can even relish the nuances of a chocolate-tasting experience where tasting experts guide you through the science and art of chocolate tasting. If you are a lover of history, take a ride on a vintage trolley for a detailed tour that takes you around the town that is synonymous with chocolate and the awe-inspiring story of Milton Hershey. Most of these attractions need tickets which can be purchased online at the time of planning your visit. Moreover, there are special events based on the seasons, specific holidays and festivals.
Apart from a delightful bakery and food court, Chocolate World is home to Hershey's largest retail store where you can shop for candies to your heart's content. It is literally a case of being a kid in the candy store as the shop is utterly fascinating with a mind-boggling selection of chocolates, souvenirs and confections. You can choose to customise your own chocolate mixes while shopping for souvenirs like Reeses cushions, milk chocolate pillows and mugs of your favourite characters.
All in all, an endearing place enveloped in sheer happiness that you can enjoy with gay abandon!
Chocofacts
Did you know that it takes 270 cocoa beans to make 1 lb of chocolate?
Milton Hershey, who built this mammoth empire, studied only till fourth grade.
Number of Hershey Kisses manufactured everyday: 80 million!
Every bar of Hershey's almond milk chocolate bar contains eight wholesome roasted almonds!
Heat-resistant Hershey's chocolates were sent to the moon for astronauts aboard Apollo 1.
Top News
The action came day after CBI arrested businessman Vijay Nai...
There have been allegations from various quarters about the ...
US visa services are trying to clear a backlog after Washing...
Makes startling revelations against Mamata Banerjee-led gove...