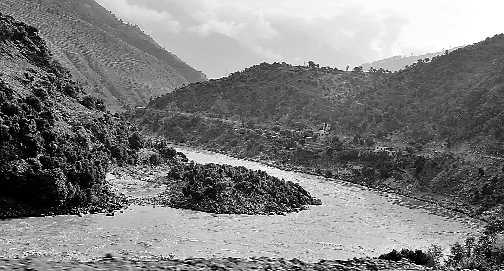 Rivers live a romance in moods of nature. Accursed they change their course, and worse, they vanish. The Chenab is a failed romance, an emerging obituary being foisted to his existence in a spate of systematic onslaughts. The river's money-spinner hydropower fate appears to run parallel to that of Sohni-Mahiwal – the legendary lovers who drowned into the river because their love was unacceptable.
The government as usual has shut its eyes to the needs of the river and its catchment area. There are multiple factors hidden below its surface. One is melting of glaciers sooner than anticipated. If glaciers lose their ice cover quicker, the Chenab would swell up abruptly before hitting a cruel, dried-up phase in as much deathly suddenness.
Already, many in the Doda area are complaining that during summers, the river level rises abnormally, but during winters the level is unusually low. "Even the rivulets and streams falling into the Chenab are drying up fast," says Imtiaz Hussain, a Doda resident.
Worrying factors
The Chenab has its source at Lahol in Pangi area of Himachal Pradesh bordering Kishtwar district of the Jammu region. Another river from Marwah, with almost the same capacity joins the Chenab in Bandharkot area of Kishtwar. It flows through Kishtwar, Doda, Ramban, Reasi and Jammu districts before entering Pakistan through the Akhnoor area. Environmentalists believe the Himalayan region too is impacted by global warming and if immediate and concrete steps are not taken, it will have adverse impact on glaciers in Jammu and Kashmir and all rivers, including the Chenab, will have to face the brunt of it.
"Green cover is a must to minimize the impact of global warming. Over the years, this cover has been considerably reduced owing to human interference," says Anil K Raina, a leading environmentalist and head of Department of Environmental Sciences, University of Jammu. "A massive plantation drive with a monitoring mechanism needs to be taken up on a war footing."
Power projects
The Chenab has the potential of generating 11,283 megawatt. There are already three major power projects, Dul-Hasti (390mw) in Kishtwar district, Baghliar (900mw) in Ramban and Doda district and Salal (690mw) in Reasi district. The revnue generated from these projects runs into thousands of cores of rupees. A few more projects are coming up. These projects depend on the reservoir created to divert the water into the generation area due to which the running water has become into stagnant.
"Once all the identified hydroelectric projects are installed, it will have a negative impact on the river. It may not get even a kilometre free space for running the course. At that point of time, it will not be a river, but a small stream," Raina said.
The oldest hydroelectric project on the river is Salal project in Reasi, work on which started in 1970. Similarly work on Dul-Hasti project was started in 1985 and Baghliar project is the newest among all. Work on it started in 1999. All these projects are run of the river project and are dependent on dams to divert the water into tunnels where generation system is in place.
First, all these projects don't have the approval of the Geological Survey of India. Dams led to creation of stagnant water, and in the absence of any catchment area, the banks have become volatile and vulnerable. Plantation exercises have not been serious as evident by rampant soil erosion. Huge mountains have started sinking and roads on both side of the river get damaged frequently.
Geologist, GM Bhat says the situation was inevitable because the government ignored a report in 1997 which called for taking remedial measures before starting the project. But this report is meeting dust in government offices, he said.
Anil K Raina also believes that government has not been able to implement the catchment area plan. "Besides planting trees, soil testing should be conducted and locals involved in the plantation exercise," he said. "But before that accountability has to be fixed. Implementing and monitoring agencies should be kept as separate entities," Raina said.
---
Power at what cost?
Once all the identified hydroelectric projects are installed, it will have a negative impact on the river. It may not get even a kilometre free space for running the course. At that point of time, it will not be a river, but a small stream. - Anil K Raina, environmentalist
Top Stories