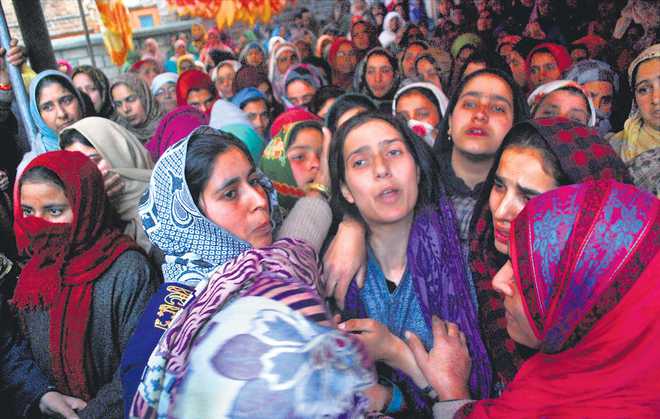 Majid Jahangir & Ishfaq Tantary in Srinagar
IN the treacherous troughs across three-decade-old militancy in J&K, yet another depression has dragged the security managers down: A PhD scholar from Aligarh Muslim University (AMU) has joined the ranks of the proscribed Hizbul Mujahideen (HM). The New Year revelation has shaken the various wings of the government feverishly trying to persuade locals to keep off the insurgent outfits.
The latest recruitment adds to the headache of security agencies busy analyzing two related developments: the Lethpora suicide attack with the local Kashmiri component and the deadly IED blast in Sopore in north Kashmir.
The picture of gun-wielding Manan Wani first surfaced on social media on Jan 7. The message accompanying the image announced that he has joined HM. He reportedly last attended his research lab at AMU on Jan 2 and was due to return home on Jan 6. The picture took his family, security agencies and friends & scholars by surprise.
Manan comes from a well-to-do family in frontier Kupwara district. He had his schooling at Jawahar Navodaya Vidyalaya in the same district. His friends and peers describe the researcher in applied geology at AMU as a "promising and bright" talent. His family claims they lost contact with him on Jan 4 as his phone was switched off. Manan's Facebook account is currently disabled, but his Twitter handle is active.
A sense of loss was summed by Manan's friends and scholars at the AMU in a joint letter. They wrote that they are "yet to overcome the trauma of imagining you gone from our ranks & having joined the extreme side of our collective misfortune." And for the shocked alumni of AMU, his joining is "neither a good nor a healthy trend."
"One needs to understand Manan's joining of militancy more from the perspective of a Kashmiri," says AMU alumnus Altaf Hussain Pandit, professor of chemistry at Kashmir University. "Young boys joining militancy is purely a local phenomenon. The ground situation in Kashmir is pushing many young boys to the wall."
"I don't want guns in the hands of bright scholars like Manan in the first place. Our loss will be huge always. The entire spectre of young and educated Kashmiris taking up arms needs a critical analysis," says Khursheed Ahmad Parray an assistant professor of geology and an AMU alumnus.
The state police have not yet confirmed if Wani has indeed joined militancy. "We have registered a case after the family lodged a missing report. There is no confirmation about Wani's militancy links," says Kupwara senior superintendent of police Shamsher Hussain.
Yet, like scores of other families, the parents of Manan have made a fervent appeal to him to return. "My son, please come back. I will keep you at home. I don't need your job now," says a wailing Shamema, Manan mother. His father is an Urdu language lecturer while his brother is a junior engineer. His cousins claim that Manan was harassed by security forces whenever he visited home, purely on the basis of his appearance.
The recruitment of local boys has emerged as a major concern for security agencies. The worry is that the Manan episode may tilt more youth towards militancy. Security sources said over 175 youths have joined militancy since the killing of local militant 'commander' Burhan Wani in July 2016. Before that the area where mostly locals joined the militants was confined to South Kashmir. The real concern is that the militant influence may be extending to northern areas. "Five youth are reported missing in north Kashmir's Baramulla town, which has remained comparatively peaceful for many years. The youths have reportedly joined militancy," said a police officer.
General Officer Commanding of Srinagar-based 15 Corps, Lt Gen J S Sandhu, thinks Manan's is a one-off incident. "His move was ideologically driven," he says. "Manan had written to Mirwaiz Umar Farooq a few years ago that the separatist movement was not moving in the right direction, and that he might try to get some youths from Lolab to join militancy. But we are sure that youths from north Kashmir will not be a part of any trend," Sandhu said.
Security analysts say cases like Manan's depict a "desperate situation" in which the absence of a serious dialogue is a big vacuum. Many argue that the young boys are not expected to take a "mature decision" when they decide to "sacrifice their precious life for the Kashmir cause." There are others who question the militant leadership for putting the lives of youngsters at risk.
Top News
President hails India's achievements in overcoming Covid-19 ...
Jhunjhunwala, Big Bull of Dalal Street, passed away in Mumba...
If Jhunjhunwala would have had a regret, it was not seeing t...
'Jaishakar said that Europe is buying gas from Russia and we...
Magnitsky petition yet another attempt to bring Indian Gover...