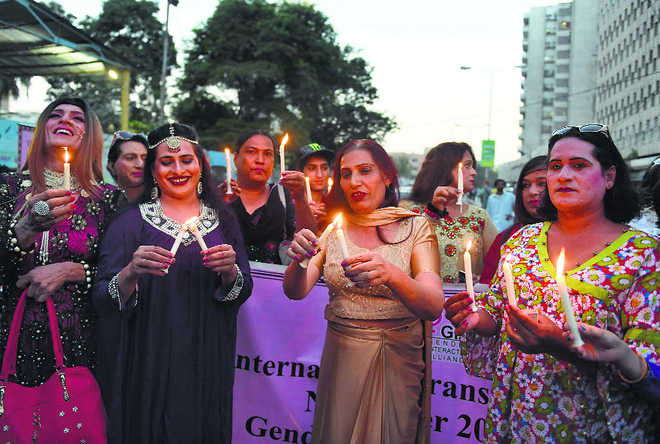 Faiqa Mansab
Pakistan's first-ever school for the transgender opened with great media fanfare in April this year. The NGO that opened it, Exploring Future Foundation (EFF), named the school The Gender Guardian. Everything seemed so right, so progressive. Only last year, the transgender community of Pakistan was counted for the first time in the census as a third gender. In August 2017, passports were issued to transgenders acknowledging the third gender. It all started in 2012 when transgenders were given national identity cards. The community was no longer invisible.
However, there is skepticism along with hope.
Transgender activist Neeli Rana, who has been at the forefront of the transgender struggle for equal rights, is not at all happy with EFF. "Why didn't they involve the community when they were thinking of making this school? The community is divided because the owner Mr (Asif) Shahzad has not involved transgender activists in this project."
Many people, like Rana, feel that there is no need for more exclusion. Why have a separate school at all? Why not integrate this traditionally ostracised community? Shouldn't there have been more focus on inclusion in schools that already exist? Financial and social marginalisation isn't overthrown in a day, of course, nor even a year or ten. It takes time to change the perceptions of a society and to uplift the conditions of a community.But how far are these isolated ceremonious steps going to help in alleviating the real issues facing the transgender community?
Rana asks, "Who are these people who speak for transgenders? Have they been raped, tortured, killed, and maimed because of who they are? Have they suffered the humiliation of having their hair chopped off, of having their faces blackened because of who they are?"
It's a pertinent question to ask this in an atmosphere where Pakistan is seeing its first ever transgender model being celebrated and accepted with enthusiasm. In a country with so much religious and ethnic intolerance, such a step is more than welcome. Pakistan has also recently celebrated the appointment of its first transgender news anchor, Marvia Malik. It isn't a surprising or unwelcome change for most. After all this is a country that fell in love with a transvestite talk show host nearly a decade ago. Begum Nawazish Ali (Ali Nawaz) ran The Late Show with Begum Nawazish Ali for two years on and off on various channels and was extremely popular, not least for doing impressions of Benazir Bhutto. However, Neeli Rana feels a few sparkling articles in the news and appearances on television don't help the marginalized community.
The Gender Guardian opens twice a week for classes. The courses on offer include sewing, computer studies, beautician courses, driving and cooking classes. There seems to be no curriculum and no trained staff. There is no foreign funding and the NGO EFF relies on local donors. "Convenient, isn't it," says Neeli. "There is no auditing for local donations. Who is going to audit where the funds go?"
However, the team running The Gender Guardian has made a great deal of progress. The school is being noticed by international donors and organisations. The civil society is also deeply invested in its success and so many intellectual and cultural gatherings have been hosted by the school.
Asif Shahzad, who spearheaded this initiative, and is a LUMS graduate, has a mature and balanced response to all these allegations, "Whenever the status quo is challenged, people have a problem with it. This is a new generation of transgenders who want a different life from what they've been taught to expect. They have broken away from the norm of the guru-chela relationship. Their money is their own. They are financially independent."
This then is the crux of the matter. Financial independence is the key and Shahzad and his team are working hard to make sure that young transgenders have at least that opportunity. "We don't belong to any group. The transgender community is unfortunately divided, but we don't take sides. We are here to provide opportunities for those who want them. Our students are so happy because they have each other. They encourage and help each other."
It's a generational gap and the change is threatening to the old guard, who have seen the worst of this society and perhaps feel that now that change is here they have been left behind. "We don't exclude anyone," insists Shahzad. "We just want to give back to Pakistan. We want to offer whatever we can. We don't get funds from people we don't know. We get funds from our families and friends. And all accounts are audited by the FBR (Federal Board of Revenue)."
The Gender Guardian is something new, something different for the transgender community. There are many who are skeptical, but most are hopeful and wish to see changes for a better tomorrow. This school is a step towards that. "We have already done several job placements. We are working to empower young people who want to be free of old ties and oppressive traditions that box them in. Some people don't like that because they lose control over the young transgenders and lose their income. We are just equipping them with tools to fight back for a life of their own," says Shahzad.