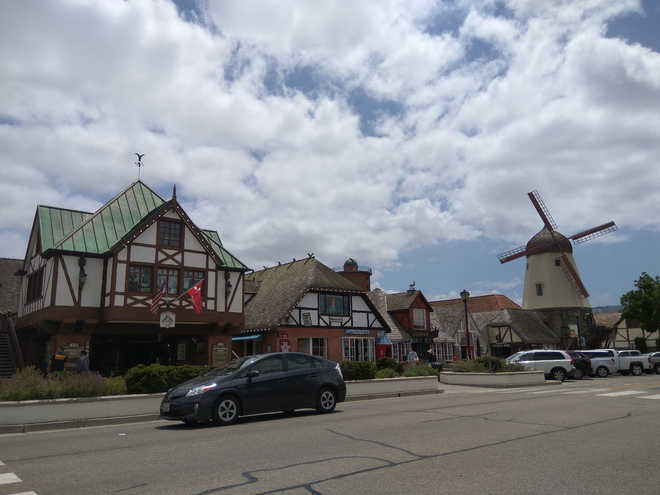 Rashmi Gopal Rao
Translating into "sunny field" in Danish, Solvang was founded by three Danish immigrants Reverend Benedict Nordentoft, Reverend Jens M. Gregersen and Professor Peder P Hornsyld — all of who shared a common dream of establishing a Danish town in America. To provide a bit of context; between 1861 and 1910, there was an exodus of people from Denmark who migrated to the United States in anticipation and hope of better economic opportunities, social status and freedom.
The number crossed a whopping 90,000 in the 1880s and while the Danes settled in their new country, they still bonded together on Danish culture, customs and traditions. Hence, there were several Danish colonies that mushroomed during this time in the midwest. Solvang is an example of one of the most successful Danish colonies founded in 1911.
With a population of about 5,500, Solvang is a picturesque town, 24 km north of the Pacific coast and about 75 km from Santa Barbara in California. Replete with the old-world charm, a visit to Solvang is sure to get your senses refreshed. It is the sort of town where almost everyone knows everyone else. 'Downtown' consists of a few blocks and a couple of crossroads. Stores are small and cozy. Traffic is sparse and life is pleasantly slow paced.
An ideal weekend getaway from Los Angeles, Solvang is best explored on foot. However, if you want to experience the rustic essence of this little town, hop on to the Solvang trolley that provides a narrated tour of the town in a carriage that is drawn by two draft horses! A romantic experience, which has been in existence since 1973.
The best way to start your tour would be to make a stop at the Elverhoj Museum of History and Art that is just about two blocks away from the town centre. Housed in a traditional structure that is reminiscent of an 18th century Danish farmhouse, the first thing that catches your attention as you approach the museum is the hand-crafted wooden door with an innovative latch, reminiscent of the days of the yore. The museum was once the residence of Solvang's most-gifted couple Viggo Brandt-Erichsen and his wife, Martha Mott, who were acclaimed artists and built this house in the 1950s. One of the few museums dedicated to Danish culture outside of Denmark, Elverhoj has extensive exhibits relating to Solvang's history and development. The museum celebrates the industrious Danish-American spirit, including the native culture and heritage through several photographs, models, artefacts, sculptures and paintings.
As you take a stroll through the serene, balmy roads lined with picture-perfect houses set amid the prettiest of gardens, you notice many of these have large birds 'resting' on the rooftops. A closer look will reveal that these are wooden models of the European white stork that is now officially extinct in the wild in Denmark. Nevertheless, it is a tradition to have these birds on rooftops as these are believed to bring good luck and prosperity. Windmills, little elf houses that are believed to protect houses and Scandinavian-styled buildings with timbered roofs are other typical Danish symbols commonly found in Solvang.
It is only apt that Solvang, which seems to be straight out of a fairytale, houses the museum of Hans Christian Andersen, apart from a Hans Christian Andersen square. Located in the Book Loft building, this charming museum is a trip down memory lane where you can browse books, artefacts and memorabilia related to the fairytales. Operated by the Ugly Duckling foundation, the museum has exhibits relating to Andersen's life, including a model of his childhood home and antique tools for making wooden shoes.
While in the town, do take time out to check out the fare in the bakeries and restaurants that serve speciality Danish pastries, pancakes and sausages.