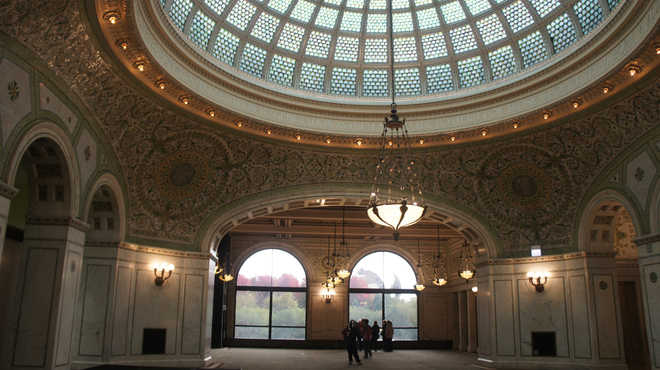 Sujoy Dhar
Chicago, which was the city of muddy streets and wooden sidewalks in the first half of the 19th century, was razed by a mysterious 24-hour-long fire on October 8, 1871, killing no less than 300 persons, and almost rendering a third of the city's population homeless.
But like the Phoenix, the city rose from the ashes. The "Great Rebuilding" that followed created a new urban hub of American Midwest, rich in its architectural diversity. While your usual architectural walk in Chicago begins from its iconic Cultural Center, embellished with regal marble, evocative mosaics and a mind-boggling stained glass dome, now is perhaps the time to visit this Illinois city owing to a year-long initiative to explore Chicago's role as a catalyst and incubator for innovations in art and design.
Spearheaded by the Terra Foundation for American Art, Art Design Chicago focuses on the period between the 1871 Chicago Fire and the turn of the 21st century, featuring year-long more than 25 exhibitions, several new scholarly publications, a documentary, as well as hundreds of academic and public programmes.
Together, these activities shine a light on Chicago's art and design legacy, providing new insights into the city's enduring influence on fine and decorative arts, graphics and commercial design, product development, and film.
Art Design Chicago was developed in partnership with more than 60 cultural organisations throughout the City of Chicago and beyond. And a majority of the initiative's activity will take place in and around Chicago. To support the success of Art Design Chicago, Terra Foundation is investing $6.5 million.
"Chicago has a long and illustrious history as a generator of new ideas in the arts and design and Art Design Chicago will increase awareness of this history. We want Chicagoans to get engaged in this content — to have fun with it, to learn from it, and to appreciate and celebrate this amazing city," says Eva Silverman, director of the Art Design Chicago Project. According to her, three different exhibitions will focus on Chicago artists like Charles White (who is now based in LA) as well as others from the past, besides contemporary ones.
"Paintings, graffiti, photography, sculpture, design, interiors, product design, and even vacuum cleaner designs or the design of the iconic Sears Tower (now called Willis Tower of Chicago, which was designed by late Bruce J. Graham), are part of it. What distinguishes Chicago is the way in which traditional art forms intersect with the commercial ones," she says.
Exhibitions and programmes are taking place throughout 2018, with high points of activity in May-June and again in September-October. Twenty-two of the 29 Terra Foundation-funded exhibitions for Art Design Chicago are free to the public.
One major event in September, titled, "Creative Chicago: An Interview Marathon," features world's leading curator and art historians, Hans Ulrich Obrist, artistic director of London's Serpentine Galleries. The four-hour interview marathon will be presented in partnership with Navy Pier, Chicago's mission-driven cultural district, in the Aon Grand Ballroom on September 29, 2018, during the Expo Chicago 2018 (September 26 to 30), as part of Art Design Chicago initiative.
Says Stephanie Cristello of Expo Chicago: "Our focus this year is Art Design Chicago and the interview marathon will bring together all creative people from art, architecture, history, music, science to examine the sparks that make this city an engine of creativity and innovation."
If you are visiting Chicago this year, do not miss art shows while not forgetting that the city's jaw-dropping experience is to take the Chicago Architecture Cruise in which you travel all three branches of the Chicago River, viewing some 50 skyscrapers, bascule bridges, and historic sites.
Top News
Railway Board has recommended for Central Bureau of Investig...
Amid 'pro-Khalistan sloganeering, the 39th anniversary of Op...
Focus on ways to expand bilateral defence and strategic ties
The incident took place when Binny had to load his SUV for t...