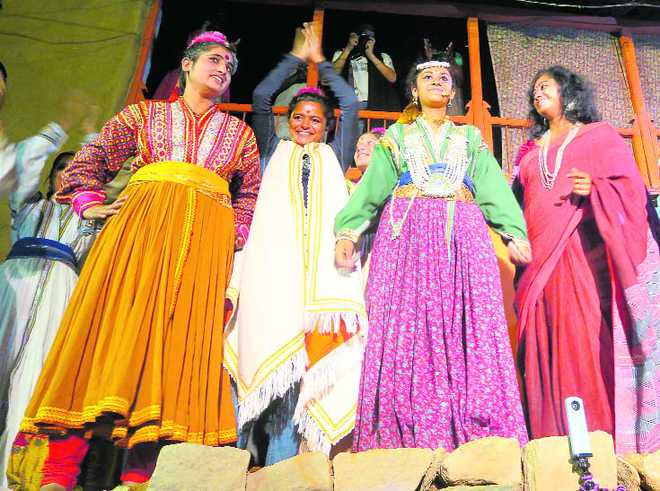 The notion 'art is for the elite' was knocked down by 11 contemporary artists from across the country and the world who lived for a month with the villagers (May14-June14) at Gunehar, a village in Kangra district of Himachal Pradesh. Their art; integrated with the village ecology and its people, transformed the processes of creation and assimilation of art in public spaces — as we have known. Every nook and corner of the village — inhabited by the people of Gaddi tribe — bears distinct art installations the villagers protect as their own.
Villagers revisited their forgotten associations something like this: The village square turned into graffiti square, done in Kangra miniature style, integrating village life motifs. The hidden unused spaces acquired something new to arouse interest; under-construction houses turned into installation spaces or multiplex cinema and a retaining wall turned into terracotta installation. Gaddi traditional attire — Launchadi -- forsaken in favour of salwar kameez, was revived by launching 17 Gaddi models on the village kachcha ramp, showcasing resplendence of this attire of rural origin, capable of posing challenge to the evening gowns sashayed at big shows. And a few villagers became a subject for serious cinema.
A new trend
The unusual success of SA AS 2 (Shop Art Art Shop 2) project could usher in a new trend that brings art practices out of the confines of gallery space. The Shop Art project was initiated in 2013, by an Indo-German resident of the village, Frank Schlichtmann, who wanted to turn Gunehar as an alternative destination associated with arts and meaningful living rather than mass tourism. Tourists throng to Bir Billing, a well known paragliding destination, right ahead of Gunehar. The 4Tables project, of which SA AS is a part, includes many initiatives that aim at qualitative, non-destructive development of the village ecology.
Gunehar was once a prominent economic hub on the trans-Himalaya caravan route. Now, economically marginalized, many shops remain shut in anticipation of economic prosperity. Schlichtmann turned these shops and desolate spaces into 'ArtShops' to give development an alternative interpretation. After the success of SA AS in 2013, this year he collaborated with Ketna Patel and Puneet Kaushik, well-known artists. All the 11 artists had to live in the village for a month, use materials and themes that integrate with village life and the villagers. The project was partially crowd-funded in the absence of sponsors.
Rema Kumar, a Delhi based textile and fashion designer, used skills of Nirmala Devi, the sole seamstress who knew how to stitch Lauchandi, to integrate contemporary with the traditional. Suman, used her skills of weaving on khaddi (handloom) to produce shawls that can be draped like ponchos. Pooja, who joined in the stitching, found a mentor in Rema; she aspires to open a boutique instead of applying for a government job.
That, 17 girls in a traditional village happily walked the ramp — attracting attention and cat calls — reflects the confidence earned by the art project. Mudita Bhandari, an Indore-based ceramic artist, found in Monica, a 10th grade student, a volunteer who assisted through the long process of making clay for terracotta to firing the kiln. The village panchayat offered Mudita the space for her installation, which is now a part of Gunehar narrative. An old villager looking at her architectural installation tells her; this is exactly the way houses used to be, before a flood gulfed them in 1966. "Each one of them adds a new dimension to my work," it amazes Mudita.
Aakash and Vishal are inseparable from Ketna Patel's pop art shop Photo Ki Dukan; they paint, guard, run errands and also double up as cameramen — keen to learn how to use the camera and light. People come with their goats to get photographed. KM Lo's TUk TUk cinema teaches village kids how to make cinema that costs just one rupee. KM, from Singapore, a highly respectable name in experimental cinema; uses his technical skills in a manner to leave an imprint on children's mind, admired and loved alike, children become deft in his company to produce 'Star Wars' and 'Hamlet' to chant on village roads, " to be or not be".
Gargi Chandola's team transformed the drab looking village square with vibrant graffiti of miniature motifs, to earn villager's applaud. "Before I realized, seeing my difficulty in painting the shutter, someone brought a bench. Everyone wants their shop to have some art." Gargi is appreciative of getting an opportunity, often not accorded to young artists. Ksenia Bosak, a young web designer volunteer from Russia, living in a village home, designed a colourful 'virtual village' to offer the 'fun' way to explore the village virtually, from anywhere in the world.
Chandni, Mohammed Faizal, Mallikarjun and Samriddhi Upadhyaya, joined SA AS 2 to assist in organisation and documentation of the project. Sheena Deviah, Bangalore, and Bianca Ballantyne of Goa transformed the hidden spaces-using ubiquitous materials like beedis, playing cards, and a tying fabric made out of local trees.
Open culture
SA AS has created an open culture. "The local people are not suspicious. When I go around with my mike and camera, they open their homes for me," says Amrit Vats, who made interesting 3-minute films, based on the characters picked from village for his 3 Minute Film shop.
Two of the young artists who were part of the first SA AS, Vivek Chockalingam and Spriha Chokhani, returned with fresh projects. Spriha opened a unique Paper Bunai ki Dukan with Neerja Palisetty, to teach skill of making fabric out of waste paper and a local boy added his own designs to paper bunai. Of the many installations by Puneet Kaushik, "Who live in glass houses" uses fabric made of recycled plastic bottles and stones left on the construction site to weave the magic and mystery of binding and destruction in the process of creation.
Vivek's installation outside the village school doubles up as a monkey bar for kids. The profound and profane both make art. "In terms of the quality of art produced, involvement of the villagers and the cost involved, SA AS has offered a new model. This has also become an important platform to launch young artists," says a Schlichtmann.