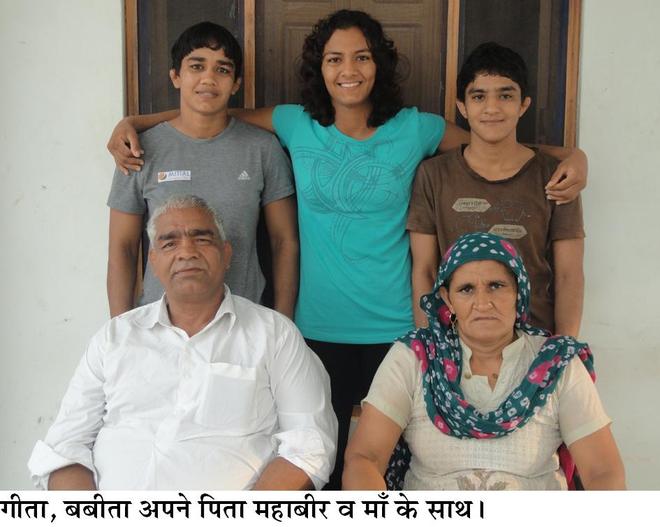 Sat Singh
Tribune News Service
Bhiwani, May 8
Mahabir Phogat (55), the man who fought societal pressures to groom his daughters - Geeta (25) and Babita (22) of Balali village- world wrestling champs has two reasons to rejoice.
Firstly, Geeta who shot to limelight after winning gold medal in 2010, Delhi Commonwealth Games has won a bronze meda in the ongoing Senior Asian Wrestling Championships at Doha while Vinesh (20), his brother's daughter has bagged a silver medal.
Babita, the other daughter of Mahabir in Doha is yet to step onto the mat.
Secondly, Bollywood superstar Aamir Khan has invited his family to be with him from May 29 to June 1 in Mumbai in connection with the former's upcoming movie 'Dangal'.
"I got a call from his team who have sent air tickets for me my wife and daughters," Phogat said.
Aamir is playing the character of Mahabir Phogat in this biopic. Passionate about male dominated sports, Mahabir – who has four daughters - had started training his daughters a decade ago.
Fighting society's biases and prejudices against girls, he dug an akhara at his house and trained his daughters in wrestling.
Geeta said that her father was always a stickler of time and discipline. "He never compromised on our morning and evening practice schedules and we underwent the same rigorous training as our male counterparts," she revealed.
Going down memory lane, Mahabir said "There were times when Geeta and Babita were subjected to ridicule and the whole village turned against me for transgressing societal norms for girls."
But things improved when the girls started competing with the boys. "The villagers used to turn up in large numbers to see them competing against the boys, recalls his brother Sajjan Singh.
Things further changed when when Geeta (in 52 kg) and Babita (in 55 kg) won gold and silver medals, respectively, at the Commonwealth Games in Delhi in 2010. Geeta also participated in the London Olympics in 2012. Four years later, Vinesh -the third sister- won a gold medal in Glasgow. Enthused over the global achievements of his daughters, he today trains scores of girl trainees at his akhara who dream to emulate the famous Phogat sisters.