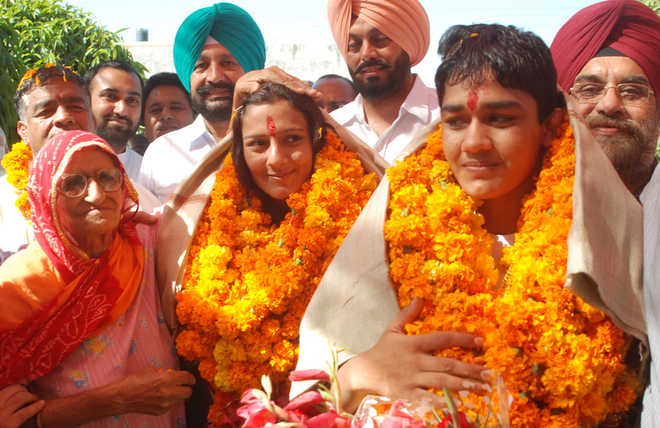 Deepender Deswal
Tribune News Service
Bhiwani, January 28
The success of Geeta and Babita Phogat, the famous wrestling sisters from Balali village of Bhiwani village, has caught Bollywood's fancy. The story of the man behind their rise, their father Mahavir Singh Phogat, would be captured in Aamir Khan's next venture 'Dangal'.
Aamir would play the protagonist Mahavir Singh, who is the father of the sisters and their wrestling coach. The movie would feature the struggle, determination and success of Mahavir, who dared to chase his dream to see his daughters as champion wrestlers despite inhibitions from society.
Confirming the news, Mahavir said he had okayed the storyline of the biopic that would highlight his character. "The story was read out to me and I have approved the script. I am still to meet Aamir Khan, but his team has visited my house a couple of times, recently. They informed me that the shooting is likely to begin in March," he said.
Mahavir added he was not sure whether his daughters or he would act in the movie, which is being directed by Nitesh Tiwari. Mahavir said Aamir would play the role of the father and the coach and he (Aamir) had been working out to look like a Haryanavi 'pehalwan'.
'Dangal' is a wrestling competition organised across the state, where wrestlers grapple in the mud. Geeta and Babita too had participated in a number of 'dangals' where they wrestled and defeated male wrestlers to win prizes during their early days.
Mahavir's daughters shot to fame in 2010 when Geeta (52 kg) and Babita (55 kg), won gold and silver medals, respectively, at the Commonwealth Games in Delhi. Geeta had also participated in the London Olympics in 2012.