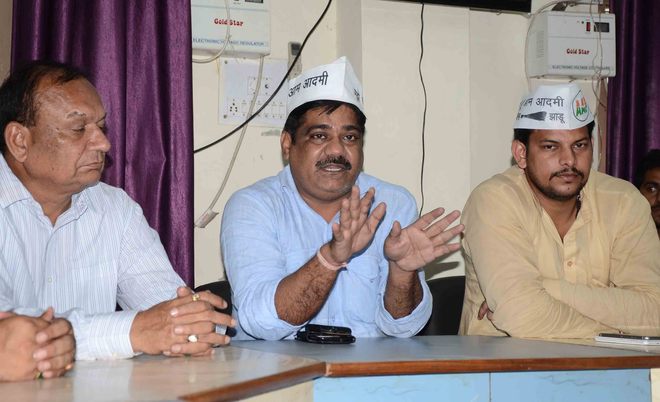 Tribune News Service
Haridwar, September 1
The Aam Aadmi Party (AAP) is likely to contest the state Assembly elections in 2017. National party leaders and legislators from the Delhi Assembly are touring the state to gauge the mood of the voters.
Buoyed by a huge response to AAP national convener and Delhi Chief Minister Arvind Kejriwal's visit to Haridwar on Raksha Bandhan, the Uttarakhand party unit is now mobilising workers and enrolling new members to ensure full preparations to take on the BJP, the Congress and the regional Uttarakhand Kranti Dal (UKD) in the Assembly elections.
Prakash Jarwal, AAP legislator from the Deoli Assembly segment in New Delhi, is on a week-long visit to Uttarakhand. Jarwal arrived in Haridwar today and met state party president Vivek Yadav and other local leaders. Earlier he met party workers in Udham Singh Nagar and took feedback from them.
Jarwal told The Tribune that people of Uttarakhand were fed up with the BJP and the Congress and want a change that AAP could provide. The BJP and the Congress had failed to provide development-oriented governance to the people since the creation of Uttarakhand.
"As of now, the party is preparing to contest the Assembly elections in Punjab and Uttarakhand. In Bihar, we are supporting the JDU-led alliance, but in Punjab and Uttarakhand the party will contest on its own. We want to give people of Uttarakhand a common man's government, as is being provided in New Delhi. Lakhs of people of the Uttarakhand origin live in Delhi and they too want AAP to contest the state elections. The final decision in this regard will depend on the response of the people and the political and election affairs committee of the party," said Jarwal.
Vivek Yadav said every active party worker was compiling the names and addresses of people of his area who wanted to support AAP in Uttarakhand.
The party was doing an internal survey and after the survey AAP national convener Arvind Kejriwal and the party political affairs committee would decide on contesting the elections.
Yadav said the BJP and Congress governments had been embroiled in corruption and scams and they ignored a separate movement going on in the state for development and regional issues.
"In Uttarakhand, we hope to win over the voters of the UKD, BSP and the SP which too have failed to make any impact in the state. AAP made history in the two last Assembly elections in Delhi and the results of the 2017 Assembly elections in Uttarakhand will be on the same lines," he said.
Top Stories