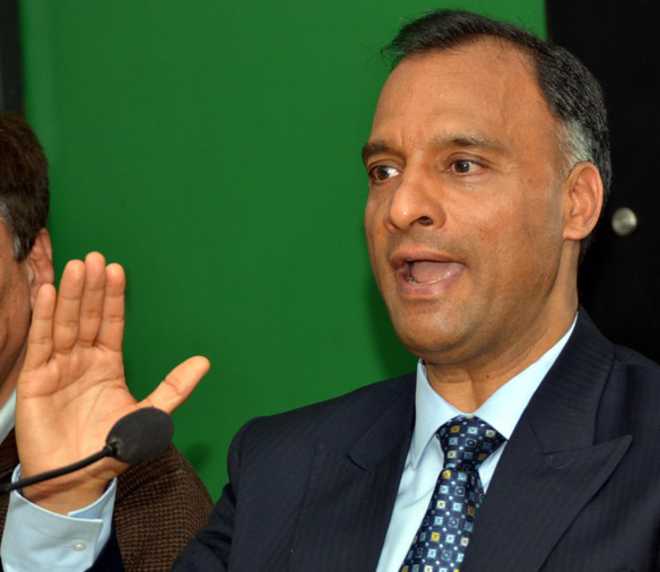 Tribune News Service
Chandigarh, February 16
Perhaps for the first time, the glaring divide between the northern and southern sectors vis-a-vis the quality and maintenance of basic amenities was admitted by none other than UT Adviser Vijay Kumar Dev, who announced to bridge the widening gap.
"When you travel from the northern sectors towards the southern, one can see the wide gap in the quality of roads, upkeep of green belts and level of sanitation. The progress of infrastructural projects is slow", said Dev while speaking at a media interaction here today.
In the past, UT officers were often seen in denial mode while commenting on the difference in the quality of life being lived by residents of the northern and southern sectors.
A glance at infrastructural facilities clearly indicates the north and south of the City Beautiful as two different worlds.
During summers, the VIP sectors (Sectors 1 to 10) face a few scheduled power cuts, while the remaining sectors have more power outages. Similarly, residents in the VIP sectors consume 2,000-2,500 litres water per day compared to residents of the southern sectors and colonies, who consume 250 litres and 100 litres, respectively.
"One cannot bridge the gap between the rich and poor, but the quality of life has to be enhanced in the deprived areas by empowering the lower-rung officers and making them accountable", he said adding that he was putting into place a new project management approach through which the status of each would be under public scrutiny.
He admitted that the maintenance of assets was the biggest challenge in Chandigarh.
While devising a system of zero tolerance and fixing of accountability aimed at officers to achieve their given targets, Dev said, "During departmental presentations in the past over one month, I found that getting maintenance work done was the biggest headache as it involved cumbersome procedures similar to those involved in working on a new project."
The Chandigarh Administration was working on an action plan to fix timelines and monitoring of projects.
"Instead of sending files from one department to the other, the officials will be made to sit on one table and decide on the issue at the spot," he said adding that the action plan of the 'Swachhta Abhiyan' had already been put into place beginning from Sector 47.
After cleaning all open spaces, the officers would be held accountable for cleaning up their respective areas. The success of the cleaning operation would be gauged from the public audit of the same.
Top Stories