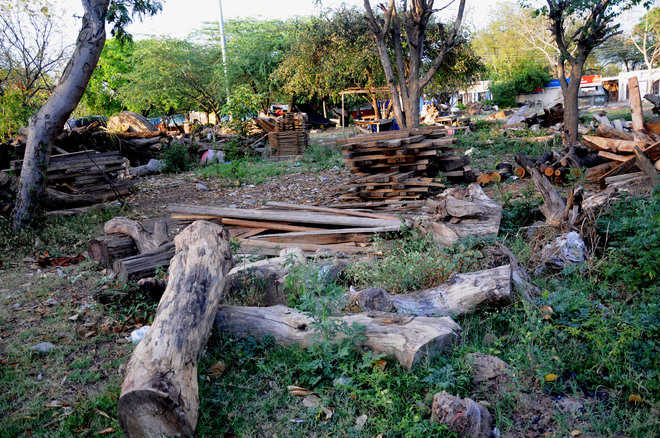 Ramkrishan Upadhyay
Tribune news service
Chandigarh, April 4
After hotels and restaurants, Timber Market situated in Sector 26 faces closure as the Chandigarh pollution Control Committee (CPCC) has filed criminal cases against traders for violating provisos of the Pollution Control Acts.
While the court of the Civil Judge, Chandigarh, issued summon to traders of the Timber Market, Sector 26, the traders opposed the action of the CPCC and met Home Secretary Anurgal Agrawal. They said the filing the case was unjustified and unwarranted.
In the complaint to the court, the Senior Scientific Officer of the CPCC has said the traders did not obtain consent to operate in terms of Section 25 /26 of the Water (prevention and control of the pollution) Act 1974 and Section 21 the Air (prevention and control of the Pollution) Act 1981. The complaint said the traders continued to run the saw mills without getting the consent required under the law.
Violation of the Acts invites imprisonment for a term which shall not be less than 1 year and six months which may extend to six years.
The summons of the court has created panic among the traders who approached the Home secretary and the Member of Parliament on the issue. Saurabh Joshi, former Councillor, who led the delegation of traders to the Home Secretary, said the decision of filing the case against all the traders is unjustified.
Gurcharan Singh Virdi, a timber trader, said, "The action of the CPCC has baffled us as all the traders got the permission to operate after the notices were served on them last year.
He said that after completing the formalities, the CPCC issued them permission to establish and operate, but despite that they received the summons from the court recently.
Sandeep Khosla, another trader, said they were allotted the shops for the timber business and registered with various departments under the Factories Act. Rajneesh Sharma, a trader, said, "No officer has ever approached us for years and suddenly they find that the shops are running without permission from the CPCC". He said on one hand, the department was giving them the permission and on the other, it was filing criminal cases. Saurabh Joshi said the matter had already been apprised to the Member of the Parliament, the Home Secretary and the Deputy Commissioner.
Birendra Choudhary, Member Secretary, could not be contacted for comment on the issue.