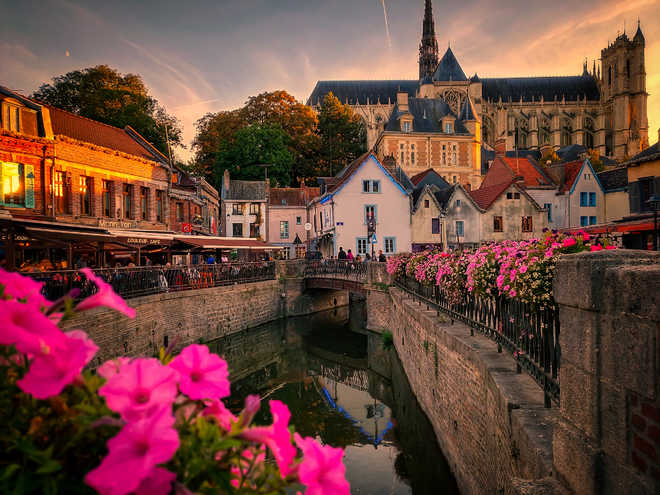 Archana Singh
Have you ever wondered which is the biggest Cathedral in France? No, it's not Notre-Dame de Paris, which was engulfed by the devastating fire in April this year. Notre Dame Amiens is the big daddy of all cathedrals. So gigantic it is that it can comfortably house two Notre Dame de Paris in its compound. And, it's not just the size that makes it an unmissable landmark in France. It's also the only Cathedral in France to be twice awarded the Unesco World Heritage site title — for its architecture filled with excellently preserved Renaissance polychrome wall paintings, jaw-dropping sculptures and soaring gothic spires, besides being a prominent pilgrimage site. During the two World Wars, Notre Dame Amiens was the only structure to be left unscathed while the whole city burnt to ashes.
While any time of the year is an excellent time to visit Amiens, better yet is to time your trip for summer (June through September) or Christmas time when the Cathedral hosts the light show "La Cathédraleen Couleurs". The show brings the massive doors of the Cathedral back to life by recreating their medieval polychromy. Through a dazzling revelation of colour from the Middle Ages, you see the figures sculpted in stone during the 13th century. A spectacle you get to enjoy with the locals!
However, the gargantuan cathedral is not the only reason why you should visit Amiens. Give the charming town some time to shine. Often called the Venice of the North, it marries the watery beauty of Venice with French small-town elegance. Your camera won't stop clicking the streets of the Saint-Leu district. Here the greenish-blue water canals snake around the medieval town and the 2000-year-old floating gardens or the hortillonnages as called in French. The floating gardens are around 300 hectares, reclaimed must-see marshland, which can be accessed by boats. Bucolic cottages, colourful flower beds and activity areas dot islands along the canals, with swans and ducks playing along quietly. The transition from wasteland to today's gardens began as early as more than 2,000 years ago.
Complementing the day's action is the alluring nightlife of Amiens. Below the Cathedral, nestled between branches of the Somme river lies the happening Saint-Leu district. Colourful tiled houses, which once belonged to dyers, weavers and tanners, with their renovated new façades, now house chic bars, pubs, brasseries, antique and second-hand book shops. Riverside terraces on the Quai Bélu are filled with people in summer. An ideal way to relax is just pick a waterfront restaurant and sample traditional French and Picard dishes with a spectacular night view of the Cathedral and Somme canal. Try any of the local favourites — Pâté en croute, Potjevleesch, Ficelle Picarde, or the homemade Special Quai Hamburger, along with the local beer at the riverside brasserie of the town, Le Quai. And, don't forget to give a tasty end to the delectable meal with the celebrated Macaron d'Amiens. Take the Amiens City Pass, which offers 32 attractive options to explore the region. Whether you're a nature lover, history buff or culturephile, this charming French city would definitely win your heart. The best thing about it is its location, less than two hours from Paris?
Fact file
Getting to Amiens
There are direct flights to Paris from all metros.
By road: It takes an hour from Paris and one and a half hours from Lille.
Train: 3½ hours from London, 2½ hours from Brussels and 1 hour from CDG Airport, France.
Where to go next
The nearby Somme Bay, an exceptional natural site visited by more than two-thirds of the birds in Europe and where sea lions can be seen with naked eyes during low tide.
Visit Lille, Cassel, Bergues, Chantilly and Dunkerque for ancient heritage, design, architecture, culture and a poignant World War II history.
Boeschepe — the last French village before Belgium where Michelin-star chef Florent Ladeyn serves guests 100 per cent locally sourced Flemish cuisine at Auberge du Vert Mont.
What to eat
Traditional French and Picard cuisine at Le Quai.
Enjoy a French fare at Au fil de l'eau, a riverside restaurant with a great view.
Live the night at Le Living, a lively bar with great local beers and cocktails.
Savour culinary specialities like ficellepicarde (savoury pancakes), macaroons and gâteau battu (a rich brioche cake).