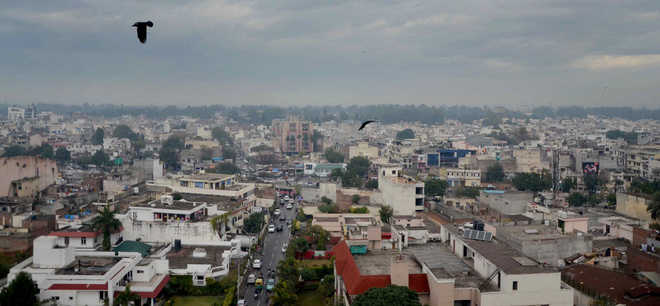 Shivani Bhakoo
Tribune News Service
Ludhiana, August 11
The Executive Summary of "Smart City" Ludhiana has been prepared by the Punjab Municipal Infrastructure Development Company (PMIDC) according to which an estimated cost of over Rs4,400 crore will be spent for getting real "smart" city, which is approximately three times higher than the actual amount to be released for the project.
Highly placed sources in Chandigarh said under the Pan City Proposals, the works to be done include sanitation and solid-waste management (estimated cost Rs350 crore), integrated traffic and transport management system (ITMS — estimated cost Rs450 crore), 24x7 water supply (Rs2,300 crore) safe city project including smart streetlights and platform for management of urban infrastructure (estimated cost Rs250 crore), which makes total of Rs3,350 crore.
Under area wide development of the city, the works including potable water, waste water, power, common utility tunnel, storm water management, waste management, urban design and landscape and transportation will involve an estimated cost of about Rs1,051 crore.
The Centre will contribute Rs100 crore, while a matching grant will be contributed by the state government every year for the next five years, totalling Rs1,000 crore.
A senior official in Chandigarh said under the Smart City project, the Centre will provide Rs500 crore and an equal amount was expected from the Atal Mission for Rejuvenation and Urban Transformation (AMRUT). The matching amount will be put by the state government/local bodies. But even after that, the total amount is too low as compared to the executive summary prepared by the PMIDC.
"Now, the focus has been to get long-term loans from the World Bank or other international bank by paying interest rates for maybe two or three decades. It is not a cakewalk to come up with the Smart City so soon. The Assembly elections are scheduled for next year and by that time, the priorities of the government that takes over will matter the most. It seems we are building castles in the air. At the same time, we are playing with the emotions of the common people," a source in the MC said.
Meanwhile, on spending a whopping amount of Rs53 crore to hire consultants, in a "damage-control" action, the government has now opted for the "deployment plan" of Rs33 crore in which less manpower will be hired and the amount will be paid to consultants in the next four years.