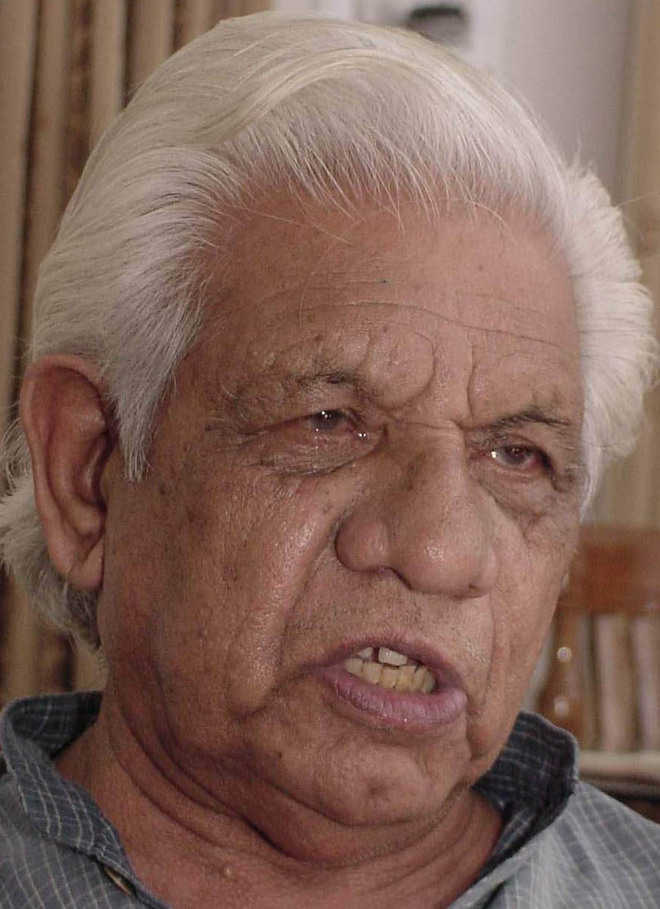 SD Sharma
Chandigarh, August 31
"Jiyenge taaza gulab ban kar, ye teh hua tha, mareinge khushboo ka khwab ban kar, yeh teh hua tha".
This couplet from the latest ghazal written by the pride of the region and literary stalwart, the legendary Kashmiri Lal Zakir (97), and immortalised by ghazal maestro Vinod Sehgal and others, is the veritable glimpse of the life of Zakir, who died today after rejuvenating the otherwise dying Urdu "adab" for over eight decades.
Zakir held prestigious posts in adult education and literary institutions like secretary, Haryana Urdu Akademi, for over 20 years and later that of deputy chairman. He travelled the world over working on
UNESCO projects and for international seminars and mushairas. He felt uneasy this morning and died at 11.30 am, disclosed Zakir's daughter, Dr Kamlesh Mohan.
Born on April 7, 1919, in Pakistan, Zakir, a postgraduate in English and Education, began his creative journey early on in life.
Credited with over 100 books on all literary genres in Urdu, Hindi, Punjabi and English, the classic novel, "Karmawali", was the apex of his genius. The National School of Drama staged over 100 shows of the play before Doordarshan produced a TV serial on this landmark creation. Zakir was immensely popular in Pakistan, which bestowed on him the prestigious Nuqoosh award and the Lifetime Achievement Award in Lahore.
His literary prominence was acknowledged with the National Ghalib Award (1986), Nehru National Literacy Award (1991), Padma Shri, Shiromani Sahitkar Samman (2006), besides the NLM UNESCO Award, Sahir Ludhianvi Award and Faqar-e-Haryana to name a few.
Describing Zakir an "ustad shayar" and friend and guide for 25 years, noted poet and Haryana bureaucrat Vijay Vardhan, Additional Chief Secretary, said with the death of the iconic literary figure, an era of Urdu literature had come to an end.
The Haryana Urdu Akademi, Panchkula, held a condolence meeting in which director Kumud Bansal and Zakir's associates Shams Tabrezi and Dr Ayub Khan paid tributes to the departed soul.
"Zakir was a lighthouse of literary excellence and inspiration for Urdu writers," said Gulzar Sandhu, chairman, and poet Madhav Kaushik at a condolence meeting organised by the Chandigarh Sahitya Akdemi. The funeral will take place on Thursday at 11 am at the Sector 25 cremation ground.