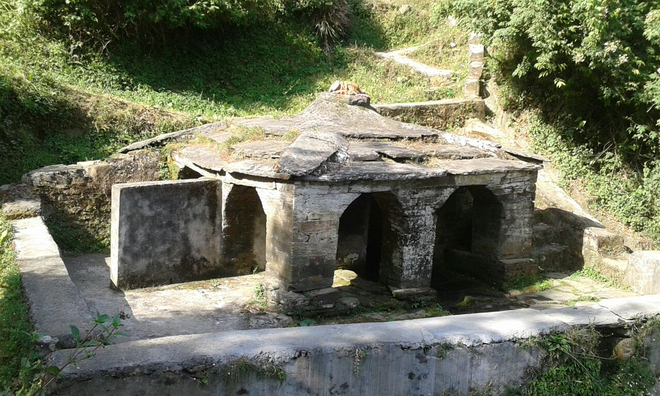 Neena Sharma
Tribune News Service
Dehradun, July 17
Erosion of ancient practices devised by the hill people several years ago to overcome recurrent natural disasters has made the people of the state more vulnerable to calamities, says a study carried out by a scientist of the Disaster Management and Mitigation Centre.
A closer look at the traditional practices of the people of the state suggest that they devised some ground rules for effective resource management, which eventually helped in disaster management and mitigation. "They had devised techniques of exploiting groundwater by digging shallow wells called naula. These were dug in areas where there was high presence of moisture and seepage. Several naulas can be found in the hill areas of the state," says the study conducted by Piyoosh Rautela.
The study has been published as a research paper in the International Journal of Disaster Risk Reduction.
It says that the exploitation of groundwater was the most important discovery of the people of this region. "Without the discovery of the water system, many hill settlements in Almora, Pithoragarh, Gopeshwar, and Joshimath may not have been possible. To further strengthen their traditional water work system, Chals and Khals were built," says the study.
"To prevent landslides, people restricted accumulation of water. In identified vulnerable areas, they resorted to disposal of rainwater into the main drainage called Jungle Gool constructed for the purpose. It also helped in water conservation," says the study. Terrace farming in the hill areas also helped in improving slope stability.is recognised as the oldest method for soil and water conservation, thereby preventing landslides.
However, it says that the traditional landslide prevention practices have already become defunct. Lack of maintenance of traditional agricultural terraces due to migration and reduced viability of hill agriculture is making the state more vulnerable to landslides. "Ease and lure of economic opportunities is also forcing people to settle near roads that are mostly aligned along rivers and streams. Traditional rules pertaining to settlements are being flouted. Despite having a rich tradition of earthquake-proof construction, proliferation of cement use and unsafe construction is on the rise. The fragmentation of society, modernisation and slackening of community bonds have led to the breakdown of traditional practices," adds the study.
Top News
Both passenger trains were at a high speed and it has been c...
Railways minister seeks to play down the disagreement with W...
The rescue workers with gas cutters and medical personnel wi...
'No therapeutic justification for these medicines'