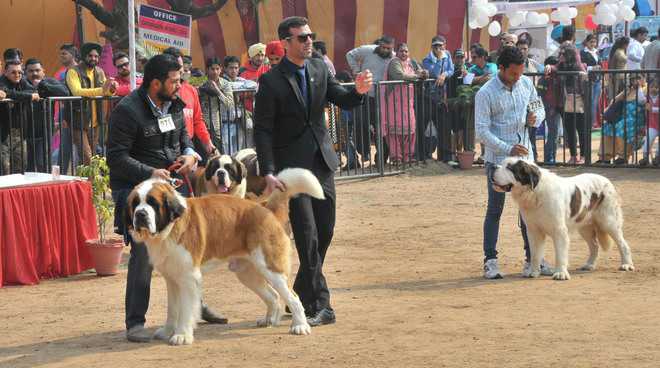 Saurabh Malik
Tribune News Service
Chandigarh, January 28
The Punjab and Haryana High Court today made it clear that Chennai-based Animal Welfare Board of India was lacking the right to interrupt, disrupt or cause obstacle in hosting of dog shows by kennel clubs.
The judgment is significant as it has removed hurdles in way of holding dog shows at Ludhiana, Patiala and Chandigarh. Taking up the matter, Justice Rakesh Kumar Jain also made it clear that dog show participants were not required to get themselves registered with the AWBI; and the guidelines issued by it in this regard were not applicable.
The ruling came on a petition by Amritsar Kennel Club and other petitioners against the Union of India and other respondents. Their grievance was that dog shows held at various places in the recent past were disturbed by the alleged activists and staff of the AWBI. One such notice was served upon the Jaipur Kennel Club Secretary.
It was stated that the institution would be punished under the provisions of the Prevention of Cruelty to Animals Act, in case a dog show was held without the AWBI's prior permission. It was further alleged that the AWBI had already laid down guidelines for granting permission for the dog shows.
The court was also told that the Indian Kennel Gazette has already issued dog show calendar; and the shows were scheduled to take place on January 31 at Ludhiana, February 7 at Patiala and February 14 at Chandigarh.
Seeking directions to the respondents to forbear from treating dogs in the shows as "performing animals", the petitioners through counsel GK Mann also sought directions to the respondents against "any kind of disturbance, obstruction or disruption in the show".
Mann added the dogs brought to the shows were looked after with great care and caution not only by the club but also by the owners. The dogs were well fed and groomed. The shows were unlike circus, bull fighting and cock fighting, where the animals were in a stress, pain or risk of physical injury.
Justice Jain asserted the entire case of the Union of India and the AWBI was that the dogs were performing animals and required registration. But evidence has not been filed on record by the respondents on money being charged by sale of tickets for the dog shows.
Top News
Voting for final phase of Gujarat polls ends, counting of vo...
'You (government) are only filing FIRs, but according to you...
Barring a few incidents of violence, polling for the final p...
BJP ruling civic bodies since 2007, won 181 of total 270 mun...
The Delhi govt opposes the Centre's plea saying it will only...