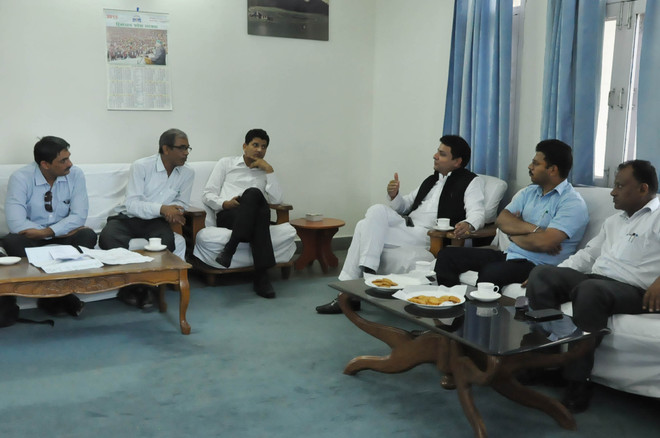 Lalit Mohan
Tribune News Service
Dharamsala, May 15
SpiceJet started its second flight from the Gaggal airport today. Now there will be three flights daily to Kangra, two of SpiceJet and one of Air India. But the politics over the flagging off the flight took the centrestage.
Congress ministers from the district, Minister for Food and Civil Supplies and Transport GS Bali and Minister for Town and Country Planning Sudhir Sharma, were to participate in the inaugural function.
However, BJP MP from Hamirpur and BJYM national president Anurag Thakur thwarted their plans and became the official chief guest on behalf of the Union Government. He flagged off the SpiceJet flight from Gaggal.
However, with Anurag becoming the Chief Guest at the function, the ministers from Kangra stayed away from the function. Though they refused to comment, sources said they were peeved at Anurag being made the chief guest while they were relegated to the guest of honours despite being the Cabinet ministers in the state.
Talking to newsmen at the Gaggal airport, Anurag said the Airports Authority of India (AAI) had approved the expansion of Dharamsala, Dehradun and Amritsar airports. At Dharamsala, the state government should provide land for the expansion of the airport.
The importance of Dharamsala had increased after the international cricket stadium was set up here, Anurag said.
Sudhir Sharma also held a meeting of officials of the AAI at Dharamsala in the afternoon to discuss the expansion of the airport.
The minister said the AAI required 175 acres for expansion. About the 75 per cent of the land being given for expansion is government land. The rest 25 per cent is private land and would be acquired. A team had been formed under the ADC, Kangra, to complete the formalities for acquisition and transfer of land to the AAI. The team has been asked to complete the formalities within one month, he said.
ML Chakraborty, GM of the AAI, who was also present at the meeting, said the length of the Gaggal airport was 1,372 metres. The AAI proposed to increase it to 1,800 or preferably 1,903 metres after the extra land was provided. With the increase in length, the visibility criteria of the Gaggal airport would also improve.
The GM said the AAI was in consultations with oil companies to set the refuelling facilities at Gaggal airport.