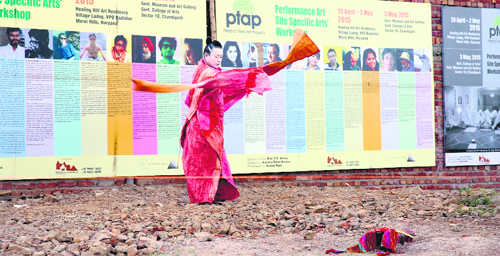 Ladog, Morni Hills. For the young practitioners of art, products of strictly UGC-approved syllabus-based education that limits the understanding of art rather than let it soar, the new practices of global art remain inaccessible. Their art, often based on producing an object — at best a painting, sculpture, or installation art — restricts their entry into the global contemporary art scenario.
For these young artists, a residency in their vicinity, held from April 26 to May 2, offered a peep into the limitless possibilities of the visual art, not dependent upon materiality and thus the logistics involved in transport and storage of art works. The Peepal Tree Art Project, under Healing Hills Art Residency (HHAR), at Ladog village in Badisher valley of Morni Hills opened a new prospect of bridging the gap between the high art — celebrated by galleries that cater to a certain class — and a thriving pool of talent of the mofussil that awaits a new platform to showcase their talent.
After the Kasauli Art Centre, founded by artist Vivan Sundaram in 1976, stopped holding residency programmes in 1984, the region has not endorsed any art residency to support young art graduates of the region. The Kasauli Art Centre also opened its doors only to established artists of the day, which, in a way, offered little to the budding artists of the region. Andretta in Himachal offers a similar facility, but it is mostly restricted to the students of Punjabi University.
Expanding the canvas
For the young artists who travelled to this valley with a view, the experience of witnessing art with fluid boundaries of forms, material and expression was a new encounter. It was mime, play and dance, all rolled into one, when Korean artist Yonggu Shin, in slow, graceful movements opened his arms, as though unfolding a canvas for the vast easel. In the process, he was recovering a lost wing, an extension of his body. This broken wing — a symbol of human imperfection — would also help him soar in the sky of his dreams. But the mutilation of the wing, based on the Greek myth of Icarus, in the backdrop of the lush green Morni Hills, added a new dimension to his art. It could be the exhausted wing of the overexploited nature. His body, a moving canvas, depicts the struggle of man against his destiny, environment and dreams. The movements could be seen as brush strokes by those who can relate to only the traditional metaphors of art.
Through this metaphorical dance, the artist seeks a new personality; tired of the longings, desires and lost loves, yet assembling the broken dreams to create a new being for himself, in the process delivering a message of hope. Like many post-structuralist artists, Shin believes that unlike a canvas that remains static with the visual, the fluidity of performance art is more integrated and allows mediation of other art forms.
For Hari Om, a graduate from the Delhi College of Art, a resident artist and a gifted sculptor with a knack for making miniature sculptures, witnessing Shin's art triggers fresh questioning and unlearning about the art practices he has imbibed over the years. "Could a sculpture become dynamic?" he wonders aloud about the new possibilities of integrating other forms of art.
Unlike art institutions in Jaipur and Varanasi, where different departments of art thrive on the same campus, allowing better interdisciplinary practices among the faculty and students that helps in experimentation and maturing of art practices across genres, students of several art colleges, including the Chandigarh College of Art, grow in isolation, says Harpreet, the man behind HHAR. A product of Banaras Hindu University, he practised site-specific performance art and has taught in art colleges across continents for over two decades.
Grassroots art residency
The Healing Hill Art Residency is designed to cater to the budding artists who fail to find an opening in the 'success-driven' art world, where established galleries dictate 'trends' loaded with commercial prospects. A roof gallery, studio spaces and basic facility for food and lodging are offered by HHAR for Rs 600 a week. A collaboration with the German gallery, Composing Rooms, and a few embassies is forged to showcase the art works.
"Indian artists come from diverse backgrounds that make Indian art layered. In the West, the art market has exhausted novelty. This void can be filled by many more Indian artists, rather than a few who enjoy top gallery connections. With just a little impetus, these artists can do wonders. KHOJ is a living example of it," says Harpreet. This grassroots residency is thus made available to young and old practitioners of art with minimum facilities, but with active integration and support of the villagers. The locals become involved in the ideation, facilitation, production and execution of art.
The sarpanch of Ladog, meanwhile, is upbeat about the residency. He hopes with so many artists coming down to their village, the state transport will provide them a regular and better bus service, along with a good motorable road.
Lekh Singh, a village landowner, helps over a dozen residency artists, who are young and old, established and struggling. The Haryanvi mandali singers become part of the site-specific performance art of 'Peepul Puja' by senior performance artist Chiman Dangi from Jaipur. Young artists like Ashok Das from Assam, Manjot Kaur from Punjab and Sonal Garg from Rajasthan, with a brilliant track record of innovative practices in their respective fields, track the valley to explore the lives of its residents. They are invited by the residents to dine in their homes. The two worlds, of familiarity and unfamiliarity, the conflicts between the two and their meeting points give birth to ideas that the artists present through their art. The linkages forged with the local community work in two ways — a few artists have taken upon themselves the task of documenting the folk arts of the villagers and its flora and fauna.
Nitin Dutt rekindles an almost lost connection with the medium of wood, both alive and severed, the village is littered with. His work titled "Retracing Origins" tries to re-establish connection between the exposed roots of an old tree to one of its initial offshoots, carefully traced from the core of a branch. The intervention with blue pigment in this site-specific work is an attempt to impart the work with a sense of omnipresence, of the continuity of life. By retracing the connect between the polarities of roots and nodes of a tree, he attempts to emphasise connections that are being lost at an alarming rate in present times.
Other artists who were part of the residency are Tapati Chowdhury, Minu Mehta, Minnie Kaur, H Sangha, Georgina Maddox and Vipul Kumar.
The economics and enthusiasm
With close to Rs 3,000 a day, which most established residency programmes cost in India, one observes the presence of mostly foreign artists in the reputed residency programmes, for example at Sanskriti. Artists, especially from the developed world, where funding agencies support their residencies abroad, find it easier to integrate their art practices with traditional Indian art forms rather than Indian artists who lack studio spaces, and getting sponsorships for a residency programme is still a dream.
Yet, like HHAR, enthusiastic artists across India have been trying to create new platforms, often unique in their conceptualisation, to give a footing to the emerging trends in art. Periferry, in Guwahati was started on a deserted boat docked on the banks of the Brahmaputra. It hosts several projects that began on the boat and continued in other parts of the world. Owned by a group called the Desire Machine Collective, Periferry encourages works that need collaboration with the local environment.
The WAA in Mumbai's Bandra (West) is a space created out of two adjoining flats in a rundown apartment complex. Over two dozen artists have used the studios, given out for three months under its residency programme. Seeing the constraint of space, the residency is meant for displaying and promoting video art.
Jaaga in Bangalore, co-founded by Archana Prasad of Chitrakala Parishath and tech-evangelist Freeman Murray, brings together community activists and creative artists in design and technology. Its growth, so far, has been organic, almost need-based rather than planned, branching into three verticals: Study, Startup and DNA, which focus on helping software developers, incubating new tech companies, and creating an interdisciplinary platform that flows into art, design, research and community building, respectively.
Even though residency programmes are viewed as 'unproductive sojourns', they facilitate the forging of fresh connections and help start conversations among practitioners across disciplines. They are more appealing to upcoming artists because art infrastructure is scant in India and sales of contemporary art are not what one would expect from a country with a long tradition of art education.
One hopes that like the wing that could help the flight of mythical Icarus only with the right amount of heat and moisture, the residency programmes give impetus to the much-awaited and much-desired flight to the Indian art.