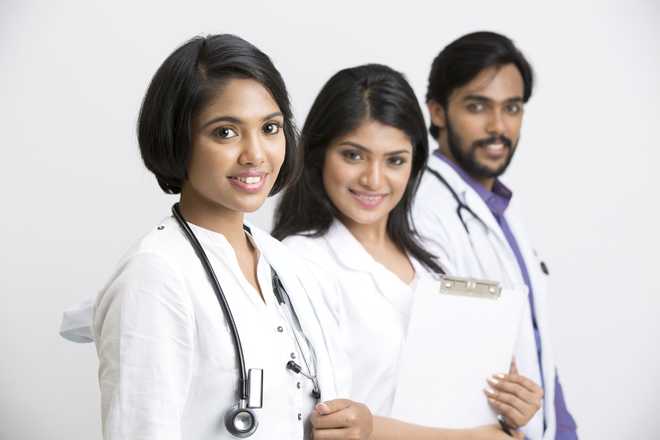 Runam Mehta
Physiotherapy focuses on the restoration of movement and function of various body parts and helps in diagnosing and treating patients suffering from health conditions that limit their mobility and affect their day-to-day life. It involves a holistic approach focusing on pain relief, restoration of mobility and normal range of movement, and prevention of long-term or permanent disability.
Physiotherapists work with individuals to develop fitness and promote general well-being as part of a healthier and active lifestyle.
Eligibility criteria for being a physiotherapist
Physiotherapy can be provided only by a qualified professional who has undergone training under a graduate, post graduate, or doctoral programme in the science of physiotherapy.
There are several paths leading to a career in physiotherapy and depending on the field that you wish to pursue, you can choose from a number of post graduate programmes. For pursuing a degree programme in physiotherapy, a background in life sciences like biology and anatomy or a foundation in psychology or sociology is desirable as the candidate already has a fair idea of the basic subjects involved in a physiotherapy curriculum. Higher degree programmes like master's or doctoral studies in the field of physiotherapy give candidates in-depth knowledge and a vivid analysis of various aspects of this science.
Role and responsibilities
Physiotherapists are an essential part of the healthcare delivery system and they play important role in rehabilitation and other programmes that promote health and fitness in both professional as well as social communities. They hold leadership roles in the development of benchmark practices as well as structuring of health care policies to build a powerful health care delivery base network. Typically, a physiotherapist is required to:
Diagnose and manage dysfunctional physical movement.
Promote improvement of all-round mobility and specific physical functions.
Work towards restoring, maintaining, and enhancing physical movement and optimal functions.
Promote overall wellbeing and fitness to ensure good quality of life.
Prevent and treat symptomatic progression of impaired physical movement, functional limitations, disabilities related to diseases, disorders, conditions, injuries or post-operative recovery.
Physiotherapists play an important role at various levels of the health care system. They are recognised as vital providers of preventive and risk reduction and rehabilitation services. Roles include:
Clinical physiotherapy involves care to patients/clients who have activity limitations and impairments/ailments of any kind restricting physical functionality. They are responsible for designing an individualised treatment plan based on their clinical judgment as well as the patient's personal goals. They collaborate with other health care providers to address client needs including communication and provision of effective and efficient treatment assistance.
A clinical physiotherapist engages in:
Examination of patient/ client history.
Conducting system reviews.
Performing tests to identify underlying or indicative problems.
Provide interventions in procedures for the management of patients based on their judgment of problems.
Modify treatment methodologies in order to achieve expected results based on the progress.
Develop and implement discharge plans based on outcomes of the treatment administered.
Additional clinical and non-clinical roles
Physiotherapists may take up additional clinical and/or non-clinical roles such as consultation, education, research, and administration. They may offer consultative services to institutions, communities, health education centers, business agencies, etc. They also engage in research and related activities in order to improve the existing system of service through innovation. Physiotherapists also form a part of the administrative system including checking and maintaining quality of healthcare service provided by a system and promoting best practices.
Home healthcare - opening up new vistas
Previously, the career options for ph ysiotherapists were restricted to those listed above, either within a hospital or clinic, or as owners of their own practice. A role in management was typically the preserve of those with an additional MBA degree. However, this has changed with forward-thinking organisations that are operating in the home health care domain and have created several other roles for physiotherapists by closely studying the education, functional and other skills of physiotherapists and matching those with the needs of the healthcare industry.
Job prospects
Professionals with a degree/ diploma in physiotherapy have many job opportunities in India, in hospitals, nursing homes, rehabilitation centers, and private clinics. Additionally, with the advent of home health care services as mentioned above, physiotherapy services are also provided at home and private offices. Physiotherapists also have ample prospects in out-patient departments of hospitals, clinics, and community and primary health centers, health clubs, fitness centers, occupational health centers, schools for differently abled children, and senior citizen centers.
Since physiotherapy is also an important part of sports injury recovery programmes, physiotherapists find jobs in sports medicine and rehabilitation centers too. Companies like Portea Medical have opened up new opportunities for physiotherapists that go beyond just clinical counseling and let them get into other clinical and/or non-clinical roles like an Engagement Care Officer, Operations Manager or even inleadership roles in business management.
Some of the newer roles that have been created by companies such as Portea include:
Patient Care officer: This person is responsible for end-to-end care for patients, and their assessment and treatment. The physiotherapist is also required to ensure quality of case files and that an accurate diagnosis, prognosis is made based on which a treatment plan is devised. This person leads a team of physiotherapists and ensures their continual learning and growth.
Engagement Care Officer: This is someone who reaches out to patients who have may have discontinued services and may be at risk of a relapse. S/he ensures that patients continue to follow the exercise routine recommended to them for long-term wellbeing.
Subject Matter Expert: This role is responsible for developing new services within the physiotherapy vertical and offering expert help when required.
Other roles include: Quality Manager, which involves conducting of audits of case-files and treatment in order to ensure better customer satisfaction; Operations Manager, where one is responsible for overseeing the on-ground delivery of the services; and a Business Manager, whoplays a key role in the management of the physiotherapy vertical and ensures smooth functioning of a health care delivery center.
— The writer is Business Manager, Medical Services, Portea Medical
---
Institute watch
There are a number of institutes in India that offer various full-time degree programmes in the field of physiotherapy. Most colleges offer these courses to individuals who have completed their Class XII with physics, chemistry, and biology as the main subjects. The bachelor-level courses span a duration of four and a half years. Some of the leading colleges that have physiotherapy courses as part of their curriculum are:
Post Graduate Institute of Medical Education and Research, Chandigarh
Pt. DeenDayalUpadhyaya Institute of Physically Handicapped, New Delhi
Indian Institute of Health Education and Research, Patna
Apollo Physiotherapy College, Hyderabad
Nizam's Institute of Medical Sciences, Hyderabad
JSS College of Physiotherapy, Mysore
SDM College of Physiotherapy, Dharwad
Mahatma Gandhi University of Medical Education, Gandhinagar
KJ Somaiya College of Physiotherapy, Mumbai
Department of Physical Medicine and Rehabilitation, Vellore
Pay scales
Professionals in India with a degree in physiotherapy complemented by excellent soft skills such as teamwork, good communication, and critical thinking may earn anywhere between Rs 5000 and Rs 15,000 per month as freshers. While the remuneration varies with the company and the set up, it also depends on the level of qualification and the college. As the candidates move higher on the experience ladder, the pay packages also get better.