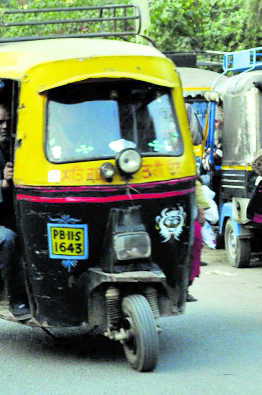 Manish Sirhindi
Tribune News Service
Patiala, July 10
Despite efforts by the traffic police, a large number of auto-rickshaws plying on city roads has led to traffic snarls across the city. It was in December last year, following the orders of the Punjab and Haryana High Court, banning the registration of diesel auto-rickshaws in Ludhiana, Amritsar and Jalandhar, the Patiala District Road Safety Committee (DRSC) had also banned the registration of new auto-rickshaws in the district.
The growing number of auto-rickshaws has become a cause for concern as it is adding to air pollution and resulting in shrinking road space. It was in July 2009 that the Punjab and Haryana High Court, while pronouncing the verdict in a civil writ petition (CWP), had banned the registration of diesel auto-rickshaws within the limits of the municipal corporations of Amritsar, Ludhiana and Jalandhar.
However, as Patiala was not included in the orders, auto-rickshaws continued to be registered here.
Gurinder Singh, a local resident, said auto-rickshaws were creating major traffic bottlenecks at various places in the city, especially near the local bus stand, Gurudwara Dukhniwaran Sahib and Thapar University. He said besides air pollution, auto-rickshaws also added to noise pollution.
Ramandeep Singh, another resident, said the auto-rickshaws ferry passengers in access, especially schoolchildren, posing a threat to their lives. He said that the auto-rickshaws could even be seen violating traffic rules and frequent challaning had failed to be a deterrent.
As per the norms, auto-rickshaws can operate only within the limits of the Municipal Corporation where they are registered. However, a large number of autos can be seen plying on the roads connecting Patiala with Rajpura, Sanour, Nabha and Bhadson.
Notably, after the National Green Tribunal (NGT) banned the plying of all 15-year-old petrol and diesel vehicles on roads in the National Capital Region (NCR), a large-number of auto-rickshaws were sold in Punjab, which led to the increase in their number as these were sold at cheap rates.
Following this, the Chairman of the Punjab Pollution Control Board, Manpreet Singh, had even taken up the issue with the top central authorities during quarterly meetings and also written to the state transport Authorities to make sure that old vehicles from the NCR are not be registered in the state.
Top Stories