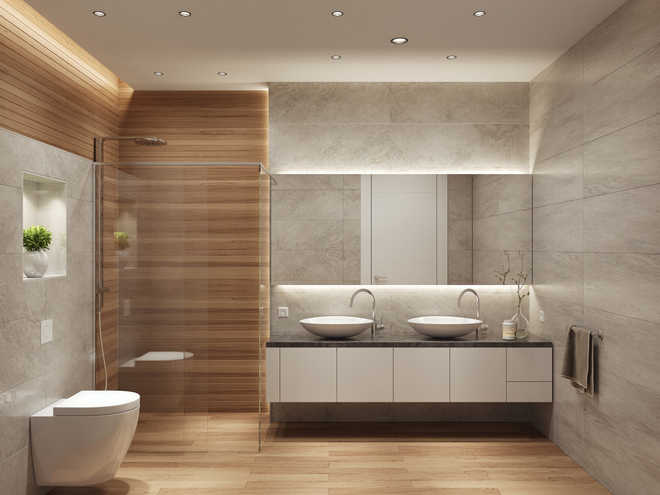 Pooja Khanna Tyagi
The bathroom will give a cluttered look if there is no provision for proper storage of essentials like soap, toiletries, towels, etc. Go for a combination of closed storage within the mirror closet or below the countertop and open storage within shelves
Planning to renovate your bathroom? Find out how to avoid the most common mistakes that are made with the bathroom layout, bathroom lighting, selection of material, finishes and more.
Poor lighting
Do not go for a basic lighting design which only includes ceiling lights above the shower and vanity area. This type of lighting looks very bright, creates a shadow effect when one looks into the mirror and fails to infuse a relaxed ambience.
Go for layered lighting, which includes overhead lights on the ceiling, installation of bracket lights on either side of the mirror or a mirror light just above the mirror for grooming. For ambience, put LED strip lighting behind the mirrors or within niches.
Wet and dry zone
Make sure that the layout incorporates a separate wet and dry zone so that the bathroom is dry throughout the day and is easy to maintain. The wet zone is demarcated with shower area while the dry zone has the countertop and the W.C. or commode.
The wet zone can be easily segregated with a shower cubicle, glass partition, shower curtain, bathtub and so on.
Provision for storage
The bathroom will give a cluttered look if there is no provision for proper storage of essentials like toiletries, towels, soap etc. Go for a combination of closed storage within the mirror closet or below the countertop and open storage within shelves.
Inadequate ventilation
It is essential to install an exhaust fan to prevent dampness and to ventilate out the fowl odours from the bathroom so that the space feels fresh throughout the day. Bathroom forms the moisture-laden area of the home and good ventilation will prevent the growth of mould and mildew.
Bring in adequate natural light through a window so that the bathroom feels more open, comfortable and freshens up the space with good air circulation.
Spacing between sanitaryware
Minimum spacing required for areas like the countertop, W.C. and shower area can range between 33" and 36". Anything less than this width makes the bathroom feel claustrophobic and uncomfortable to use.
Choice of material
For flooring, glossy finish tiles are a strict no. Consider only matte finish tiles. Go for anti-skid textured ceramic and porcelain tiles or natural stone material.
Buy sanitaryware and fixtures from reputed brands which can give good after-sales service and a good warranty period.
Match and coordinate finishes of faucets, knobs, handles, lighting fixtures and accessories. The various finishes available in the market include standard brushed and polished finishes of chrome, nickel, SS (stainless steel), bronze and brass.
Slope in shower area
This is one of the most drastic mistakes that can happen in the design of the bathroom. Provide adequate slope within the flooring of bathroom to ensure successful drainage of water that prevents water clogging.
Leakage in pipes
Most bathrooms are designed with concealed PVC pipelines. Since the pipe joints are prone to leakages, it is important to properly seal these joints so that there are no gaps at the joints or bends in the pipes.
Wrong paint finish on wall and ceiling
Bathrooms are exposed to a lot of moisture and humidity. Select a semi-gloss or waterproof paint for the non-tiled wall surface and the ceiling. Water-resistant paint finishes have high resistance to fungal growth.
Improper grouting
Improper grouting and inferior quality of workmanship can ruin the overall look of the bathroom. Therefore, it is important to commission the work to a reputed contractor who can ensure good quality of work. Consider epoxy grouting because it is highly durable, stain-resistant, waterproof and can withstand harsh cleaning.
— The writer is a Delhi-based architect and interior designer