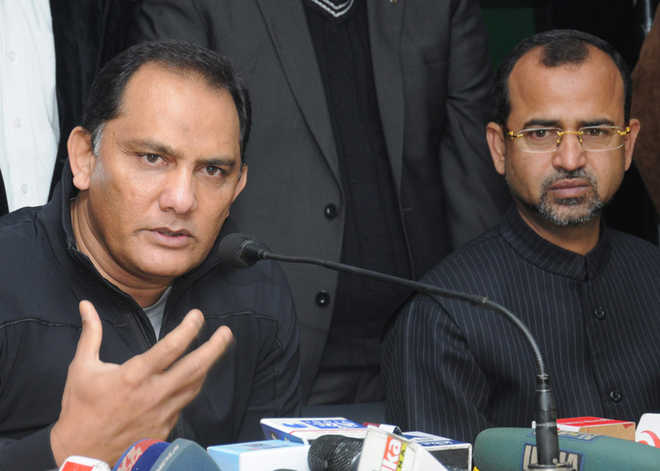 Deepankar Sharda
Tribune News Service
Chandigarh, January 9
Former captain of Indian cricket team Mohammad Azharuddin announced that he will start a new coaching academy in Mohali for junior players. He believes that Indian bowlers need to concentrate more if the team wish to perform at their best in the upcoming ICC Cricket World Cup-2015.
51-year-old former player-cum-politician said the new Indian side is full of enthusiasm and passion however repetition of some mistakes in the ongoing Australia tour could cost the team dear.
"The bowlers are repeating mistakes on regular intervals and, in my opinion the team management needs to come in for rescue. This is the time to guide the bowlers with some good experience, rather imparting knowledge in close doors. There is a difference between theoretic knowledge and practical knowledge. We have the same bunch of bowlers that will be representing the nation in the upcoming world cup. So, I think, the ongoing performance should be like a wake-up alarm for everyone," stated Azharuddin.
When asked about the shifting of test's captaincy to Virat Kohli, Azharuddin said it was a good move. "MS Dhoni possesses big achievements. He had performed well for the country and hopefully will carry forward the legacy in limited-overs format. However, his career overseas in test format is something that was a little shaky," stated Azharuddin. While adding further, "The new captain (Virat Kohli) is young and his ongoing performance boosts the entire team to perform well. With young boys in his kitty Virat has to stand tall against many challenges in future."
Regarding the final 15-member squad for the upcoming World Cup, scheduled to begin next month, he said, "The selectors have zeroed-in on best players. There is no question on their choice. All the team needs is to concentrate on playing over difficult tracks." He also supported the selectors over dropping Yuvraj Singh. However, maintained the World Cup is not exactly end of his career. "The selectors must have something in mind before dropping such a fantastic player. The stylish player is known for his class, power and timing. He has also proved his worth in the ongoing domestic season and I don't think it is end of his carrier. It will be his new beginning and he will surely bounce back strongly," said Azharuddin. He announced to open a cricket academy in Mohali. The academy will focus on coaching youngsters under the guidance of professional cricketers.